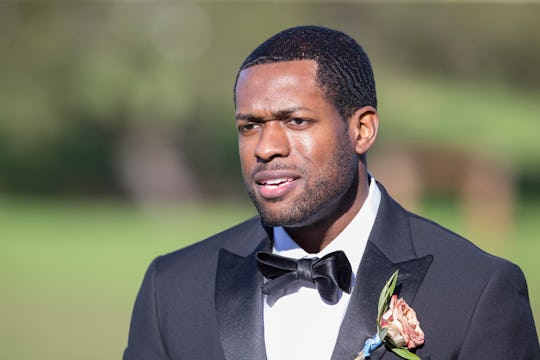 Paul Hebert/ABC
'The Bachelorette' Cut Jean Blanc After One Very Awkward Confrontation
The Bachelorette took its first field trip this week, sending Becca and her remaining 15 guys to Park City, Utah for some winter sports. Unfortunately, one of the guys got cut prematurely in a scene that rivaled Becca's engagement breakup with Arie Luyendyk Jr. in awkwardness. So why did Jean Blanc leave? He broke Becca's cardinal rule: just be honest.
During a cocktail party following a group date, Jean Blanc dealt with his insecurities around the show's ~process~ by doing way, way too much to get Becca's attention. After pulling her aside, he gifted her a bottle of perfume he supposedly created himself in collaboration with "one of the biggest fragrance houses in the world." (Remember, Jean Blanc's official title on the show is "colognoisseur.") As Becca tried to figure out how to respond, Jean Blanc admitted to her, "Actually, there is one thing I want." He then whispered something in her ear, she said "oh!" in surprise, and then Jean Blanc grabbed her face and turned it towards him for a kiss. It was a painfully cringeworthy example of being awful at reading someone's body language. And if what he whispered was a request for consent, then it was doubly bad, because she definitely did not give it! Becca was very clearly uncomfortable and Jean Blanc forced a kiss anyway.
A poorly-timed kiss is not the end of the world, but it definitely set Becca on edge for the rest of the encounter, which did not go very well. She admitted in a cutaway interview that she didn't think Jean Blanc was being very intuitive and only kissed her because the clock was ticking, so to speak, on the relationship. He later interrupted another conversation to steal Becca away and "finish" their chat. (It was very much over the first time.)
"I feel as though the connection really has always been there, I felt as though it was instantaneous the first time I met you," Jean Blanc said to Becca. "I've been doing a lot of thinking and I really haven't felt like this in a long, long time. I wanted to let you know that I'm truly falling for you, and I'm falling in love with you, and I'm just putting it out there."
There was a very pregnant pause as Becca weighed his feelings — which she very clearly did not share. She gently assured Jean Blanc that she wasn't on the same page as he was, and that she found his confession to be "a little intense" and "a lot to take in." Ultimately, she decided to let him go because she didn't think it was fair to allow him to stay in the competition when he was so much more invested than she was. A perfectly fair line of reasoning!
Later, as she walked Jean Blanc out, he puzzlingly decided to bring up the bottle of perfume he gave her. "What about the gift?" he asked. Apparently, he was confused by why she accepted the gift only to reject him after he said I love you, which I won't dignify with an explanation. Becca politely pointed out that she accepted the gift before knowing he was in love with her.
"That's not necessarily where I'm at," he backpedaled at breakneck speed. "I just thought that that's where you wanted to take things and you were ready and that's what you wanted to hear."
The flip-flopping touched a nerve with Becca, who questioned whether he had been lying two seconds earlier. He said "absolutely not" but didn't really give much of an explanation for the switch. Eventually, blessedly, Jean Blanc got in a car and left. But Becca was left so shaken and angry after the encounter that she canceled the rest of the cocktail party and just went to bed.
For what it's worth, the guys really seemed to rally around supporting her and understood that she was going to be more guarded with them now that someone had violated her trust just to stick around in the competition longer. Luckily, she bounced back pretty quickly after a great date with Wills, so, honestly, good riddance to Jean Blanc. May his meticulously curated cologne collection entertain his constantly changing stories.