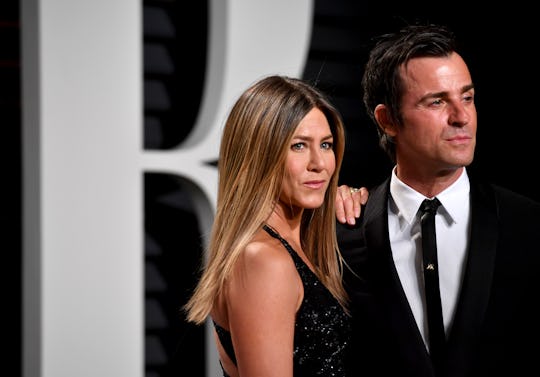 Pascal Le Segretain/Getty Images Entertainment/Getty Images
Jennifer Aniston & Justin Theroux Announced They're Splitting Up, But Why, Oh Why?!
I'm sorry to tell you this so soon after Valentine's Day, when you're probably still digesting your heart-shaped chocolates and such, but love is actually dead. I don't know why it happened, just as I'm trying to figure out why Jennifer Aniston and Justin Theroux broke up. But I'm here to tell you that this is our new reality, so we might as well get used to it.
It's true, guys. The Friends actress and her husband of two years, fellow actor Justin Theroux, ended their marriage. The couple released a joint statement to officially announce they would be separating, and it seems as though they ended things at the end of 2017. ABC News reported that the statement, which was released by Aniston's longtime publicist Stephen Huvane, read in part, "Normally we would do this privately, but given that the gossip industry cannot resist an opportunity to speculate and invent, we wanted to convey the truth directly. Whatever else is printed about us that is not directly from us, is someone else's fictional narrative. Above all, we are determined to maintain the deep respect and love that we have for one another."
Romper's requests for comment from both Aniston and Theroux's reps were not immediately returned.
Aniston and Theroux fell in love seven years ago on the set of the film Wanderlust, but the actors knew each other for five years before that. As Aniston told The Mirror at the time:
My first was that this was completely easy. He is funny, kind and easy to be with. I met Justin about five years ago and I thought, "Woah, he is very sweet".
It seems as though she still thinks he's pretty sweet, too. In their shared released statement to the Associated Press, the couple noted that they were "two best friends who have decided to part ways as a couple, but look forward to continuing our cherished friendship."
Much like myself, fans are having some pretty strong feelings about Aniston and Theroux separating. Probably because, like me, they were often comforted by the concept of Aniston, Theroux, their dogs, and their home on the beach just existing in perfect harmony.
Avid Aniston and Theroux watchers might not be as surprised as others, considering how frequently the two have been spending time apart recently. People reported that Theroux, who just finished filming the comedy The Spy Who Dumped Me in Budapest, has been spending a considerable amount of time in New York recently while Aniston remained in Los Angeles. Theroux was also notably absent during Aniston's 49th birthday celebration in Malibu, which she spent with friends Courteney Cox, Andrea Bendewald, Leigh Kilton-Smith and Kristin Hahn on Sunday.
Professionally-speaking, Aniston has an interesting year ahead of her. She is set to star in a new, untitled television project for Apple TV alongside her friend Reese Witherspoon, which will begin filming this year. She also just finished filming the movie Dumplin', a musical comedy about a young girl who enters a beauty pageant to attract the attention of a boy she likes.
As sad as it is to find out that Aniston and Theroux have split, it's perhaps important to remember that they've already had some time to heal. Aniston has reportedly been hanging out with her closest friends, as one does during a breakup, and the actress has always been known as someone who enjoys her own life.
So perhaps instead of saying that love is dead, as I might have said earlier in a panic, it's better to say that love has changed. After all, Jennifer Aniston has never been a woman defined by her romantic relationships, and will undoubtedly rally after a time.
She'll have her home on the beach in Malibu, her dogs, her career, her excellent skin. And it sounds like she'll still have Theroux too... just in a different capacity.
He'll still be "there for her." Clap, clap, clap, clap.
Check out Romper's new video series, Bearing The Motherload, where disagreeing parents from different sides of an issue sit down with a mediator and talk about how to support (and not judge) each other's parenting perspectives. New episodes air Mondays on Facebook.