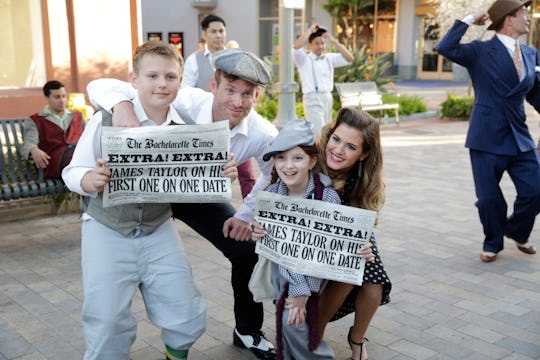 ABC/Greg Zabilski
Why Did JoJo Send James Taylor Home On 'The Bachelorette'? Fans Are Heartbroken
On Monday's episode of The Bachelorette, James Taylor saw the writing on the wall that he was going home. He did not receive a solo date like Alex, Jordan, and Luke and he failed to receive a rose on the three-on-one date with Chase and Robby. He had a heart-to-heart with JoJo about really wanting to make it to hometown visits so she can meet his family, but alas that was not enough; she let him go in the final rose ceremony of the night. Out of all the remaining guys, why did JoJo send James Taylor home on The Bachelorette?
Well, for one, James did not really impress with his "let's see how many French fries I can fit in my mouth" trick he tried during the three-on-one date. More improtantly, however, it's clear that his insecurities got the better of him: he kept tattling the other contestants out to JoJo in order to get ahead. We saw an inkling of this in the last episode, where he called Jordan "entitled" for telling him how to play poker (Jordan is entitled for a lot of reasons, but that's probably the least of them). This time, he told JoJo that Robby was eyeing girls on the streets Argentina. Not a good look.
Furthermore, it seems that JoJo has a stronger connection with the other guys. She's clearly into Jordan and Luke, whom she had solo dates with (she also had one with Alex that included horse whispering, but JoJo sent him home after realizing being with horses was a better time than being with Alex). On the joint date, JoJo gve the rose to Robby, signalling that he's a frontrunner as well and was guaranteed a hometown visit. Finally, we saw JoJo spent more time with Chase now than ever before – so much so that we can remember who Chase is.
Despite JoJo saying she had feelings for James and seeming like she meant it, someone had to go home – thus, James got the boot. James was heartbroken and, quite frankly, so are fans:
With James so popular on social media, however, this might not be the last we see of him. Perhaps ABC producers will have mercy on him (and us) and cast him as the next Bachelor. It may goodbye to James Taylor and his yet-unhealed eye for now, but we would welcome him back with open arms.