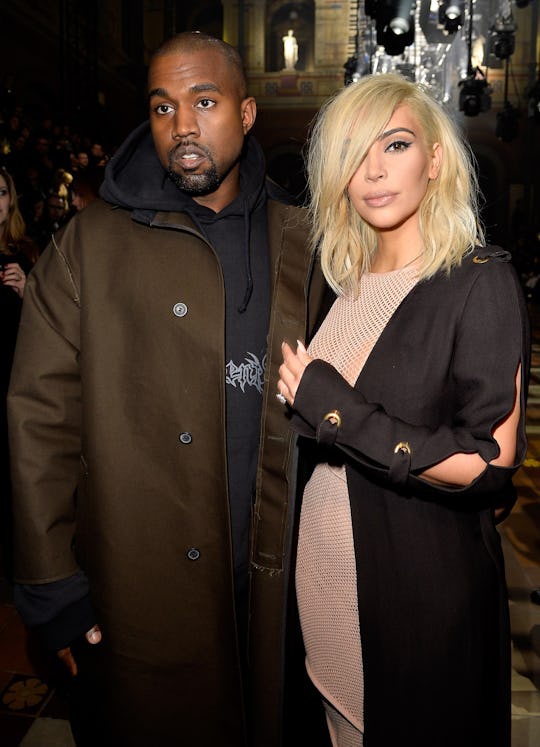 Pascal Le Segretain/Getty Images Entertainment/Getty Images
People Are Stumped About Kim & Kanye's Daughter's Name, But Here's Why It's Perfect
After waiting three long days since Kim Kardashian and Kanye West announced the birth of their third child — a baby girl born via surrogate — they've officially revealed her name, too. On Friday, the 37-year-old proud mama took to her website and shared with her legion of fans that they've named their baby girl Chicago West. With mounting fans theories about what their daughter's moniker could be, people expected their little girl's name to be something that was both unique and symbolic. But, why exactly did Kim Kardashian name her daughter Chicago?
The name Chicago West is way more than a shoutout to an amazing city in the Midwest. Although neither Kardashian nor West have yet to explain the thought process or reasoning behind the name Chicago, there's a pretty strong theory that fans can work with for right now. The 40-year-old rapper was infamously born and raised in Chicago, growing up on the South Side and the southern suburbs "while his mother worked in higher education," as the Chicago Tribune pointed out.
Indeed, little Chicago West's name is clearly a touching tribute to West's hometown, a place that's been mentioned in some of the rapper's most famous songs, like "Homecoming" and "Hey Mama." The Windy City really does hold a special place in West's heart.
It may also be possible that naming their third child after West's hometown is a discreet, yet beautiful way of honoring his late mother, Donda West, who tragically died in November 2007 at the age of 58 following complications from an elective surgery, according to Us Weekly. In an emotional interview with Q Magazine, West blamed himself for his mother's passing. "If I had never moved to L.A. she'd be alive ... I don't want to go far into it because it will bring me to tears," he told the publication, according to Us Weekly.
West and his mother were very close and he's made many loving tributes to her since her death. And just days after Kardashian and West's baby girl was born on Jan. 15, West seemed to entertain the idea of naming her Donda after a photographer suggested it, according to TMZ. He simply replied, "that's fire." And, even though some fans were confused by Chicago's name at first, it's also just as fire.
Some People Were *Really* Confused
Others Totally Got The Name's Symbolism
And for anyone who is unnecessarily concerned that Chicago isn't a *normal* name for a kid, Kardashian and West don't plan on calling her by her full name. In a follow-up tweet to the name reveal on Friday, Kardashian wrote that she'll spell her name "Chi" and retweeted a fan's explanation that it will be pronounced like the word "shy."
"North, Saint & Chi," all short, one syllable names. And that's exactly what she was going for, as Kardashian explained during an appearance on The Ellen Show. Although it's not clear if they already had Chicago in mind for their baby girl, Kardashian told host Ellen DeGeneres in November, "I do like different name — but short, easy to spell, one syllable," she said, according to E! News. "That's kind of my vibe."
There were reports earlier in the week that Kardashian and West had not settled on a name days after she was born, according to Us Weekly, but they could very well have been enjoying this special time bonding with Chi before revealing her name to the masses.
Given how open Kardashian has been since her daughter's birth, it's likely that she'll open up about what led her and West to settle on this sweet name. In the meantime, little Chi is already adored by many in one very special city.
Check out Romper's new video series, Romper's Doula Diaries:
Watch full episodes of Romper's Doula Diaries on Facebook Watch.