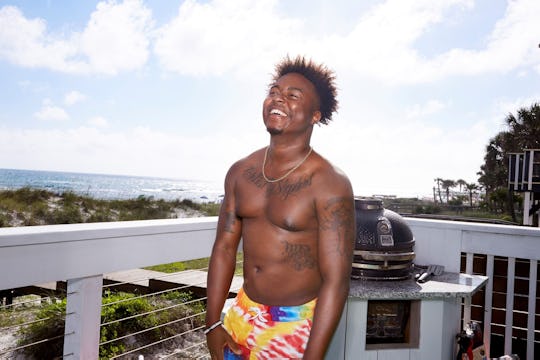 MTV
Kirk Gets Arrested On 'Floribama Shore' Sparking A Discussion On Racial Bias
Gus' birthday celebration on Floribama Shore did not go as planned. Although a number of things went wrong, what was probably the biggest shocker of the night was when police came to the house to arrest Kirk. So why did Kirk get arrested on Floribama Shore? Well, it all started pretty early in the night.
At the first bar the Floribama Shore crew went to, a heckler taunted the ladies, asking about "the hoes." Kirk stood up for his friends by throwing several packs of Saltine crackers at the man. Then, after being warned, he hit the guy with another pack of crackers. Unsurprisingly, he was then thrown out of the club, but the group just moved on to Coyote Ugly. However, before they could even make it inside more drama ensued.
This time someone was heckling Jeremiah and while Jeremiah himself seemed unbothered, Kirk wouldn't stand for it. He ended up slapping the heckler, leading most of his housemates to call it a night. At the house, Kirk was in the middle of a discussion with Candace when three police cars showed up to arrest Kirk. Next thing you know the 26-year-old was cuffed and he could be heard saying, "I really didn't punch anyone. I promise you, officer," before being led into the back of a cop car.
The episode ended after leaving many fans to wonder what's next for Kirk. Did the guy he slapped press charges? Will Kirk actually serve time for this or just end up doing community service? Hopefully, it's just the latter, especially since Kirk was really just defending his friend, even if he handled the whole situation poorly. However, there was also another part of this whole debacle that had to do with Candace.
Candace was upset with Gus for not sticking up for Kirk and taking the police's side when everything when down at the first club. "We are roommates. You're supposed to have your roommate's back," she told Gus. Surprisingly, Kirk actually took Gus' side but Candace still wasn't having it. When Kirk got in trouble for the second time he then apologized to Gus, and Gus felt Candace also owed him an apology but she refused.
"I don't owe nobody an apology," she said. "We all should stick together, but you stuck with the cops." By the end of the night, when they were back at the house, Codi brought up that it was a "race issue." Though at the time Candace didn't say that was the case, later in an interview with Too Fab she confirmed that she did feel like the fact that Kirk is black did play a role in the events of the night; Candace is also black.
"That's a hard city to party in when you're black," she said. "But it's a lot of stuff. You know we overlook a lot of things cause we're with production...we have security so it's not like we've got to worry about anything happening...there's just certain little stuff you got to deal with going to these clubs in the redneck riviera." She also added, "[The incident] did seem like it had to have been a skin color thing, because nobody was giving me answers as to why Kirk was being kicked out."
Candace was so upset by everything that occurred that by the end of the episode she was packing her bags, and saying she was going home. Viewers will just have to keep watching to see what happens next.
Floribama Shore airs on Monday nights on MTV at 10 p.m. ET.