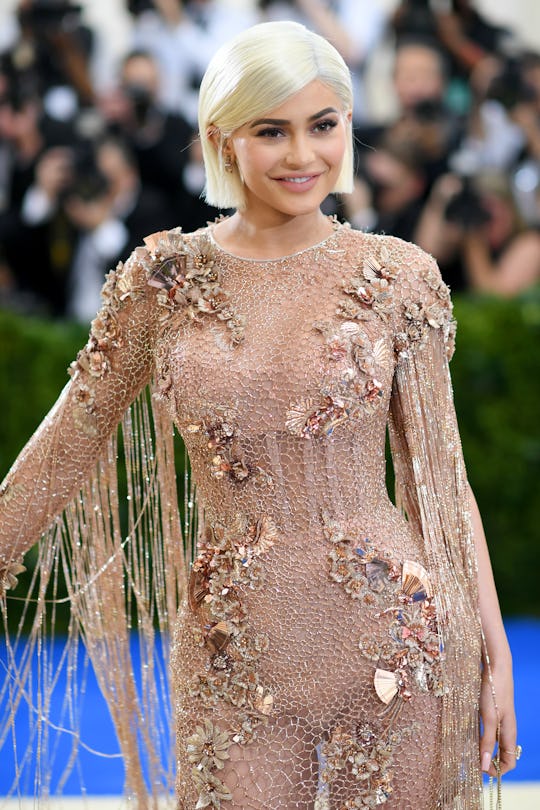 Dimitrios Kambouris/Getty Images Entertainment/Getty Images
Throw Out Those Theories, Because This May Be Why Kylie Jenner Named Her Daughter Stormi
Just two days after Kylie Jenner revealed that she was not only pregnant, but had already given birth to a baby girl, the 20-year-old reality star has released one more crucial detail about her daughter: Her name. But why did Kylie Jenner name her daughter Stormi? All those theories about Jenner naming her daughter "Butterfly" are out the window after she posted a photo of her baby girl's hand and captioned it with just her name.
The Kardashian family is known for choosing unique names for their little ones, so picking an unconventional name shouldn't come as a surprise, right? After all, her sister Kim Kardashian named her three children North, Saint and Chicago. So, Stormi should fit right in.
Yesterday, E! News spoke with Jenner's mom Kris and asked the momager about her new granddaughter, even asking her if the "Butterfly" baby name rumors were true. She immediately shot down the questions. "Kylie did it her way, which I thought was really beautiful," she told E! News. "She just really wanted to take the time for her baby and herself ... She's really great! ... I'm not talking names tonight! I'll let Kylie tell you about what her name is."
Well, not even 24 hours later and Jenner has delivered!
For months, Jenner kept fans in the dark about her pregnancy and finally confirmed the news once little Stormi was born, by releasing a video of her baby journey, titled "To Our Daughter." The video documented Jenner's pregnancy, starting with home video footage from the day she, herself, was born. The footage ended with Stormi's birth date, Feb. 1, 2018.
Since the video's release on Super Bowl Sunday, it has racked up almost 38 million views. Jenner's family members and friends continue to share their congratulatory messages online, celebrating Stormi's arrival.
In an interview that came out today with Extra TV, Jenner's sister Khloe Kardashian gave an update on how her little sis is handling motherhood. "This is so natural for her… and just seeing her so at peace with everything, I'm really happy for her," she told the outlet.
When baby Stormi's arrival was first revealed, Kardashian took to Instagram to congratulate Jenner with a heartwarming message. Kardashian, who is also pregnant, wrote:
Congratulations My Sweet Kylie! What a magical ride it's been! I'll miss you bumping along with me. Never in a million years did I think we would do this together but it's been that much more special because of it ... I love you little mama. love big mama.
Jenner has received hundreds of roses and bouquets to celebrate this special moment in her life. Stormi's dad Travis Scott bought Jenner 443 roses because their daughter was born at 4:43 p.m. local time. Jenner posted the sweet pic on her Snapchat.
How adorable is that? In Jenner's baby reveal video, Scott is shown at her side every step of the way throughout her pregnancy. The two appear to be very much in love, which should make for a joyful atmosphere for little Stormi.
There's only one thing fans are wondering about now ... Why did Jenner pick Stormi for her baby's name?
Fans Want To Know Why Jenner Named Her Daughter Stormi
While so many fans are joking about the name or questioning why it was chosen, one fan tweeted a theory about why the name Stormi was picked. There was a great deal of hype surrounding the rumored name "Butterfly," but it was proven to not be the name choice ... or was it? One fan explained on Twitter:
Kylie named her baby Stormi. The butterfly effect is when a hurricane comes because flap of a butterflies wings bringing a storm.
"Butterfly Effect" is actually the name of one of Scott's tracks.
So, now that the name has been announced, the only thing left is a full-faced photo of little Stormi. Since Jenner released the name just two days after her baby reveal, maybe she won't keep fans waiting too long for a picture. Then again, she did keep her pregnancy a secret from fans for nine long, long months.
Check out Romper's new video series, Bearing The Motherload, where disagreeing parents from different sides of an issue sit down with a mediator and talk about how to support (and not judge) each other's parenting perspectives. New episodes air Mondays on Facebook.