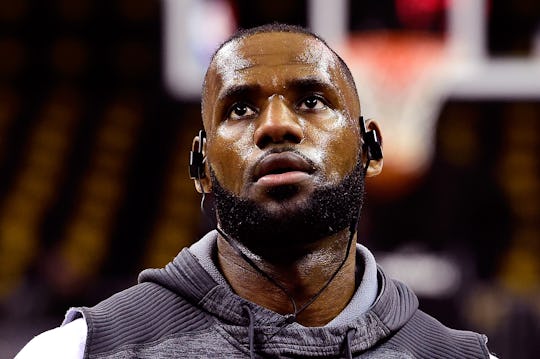 Jason Miller/Getty Images Sport/Getty Images
Here's Why Lebron James Called Trump A 'Bum'
Donald Trump has gotten himself in hot water with athletes this weekend. After disparaging NFL players for protesting racial oppression while speaking at a rally on Friday night, Trump then rescinded the Golden State Warriors invitation to the White House, prompting LeBron James to call Trump a "bum" on Twitter. Only in America, right? Here's what happened: Championship teams are often invited to the White House to meet the president for a photo op.
Despite not having yet received a formal invitation, Warriors guard Steph Curry told reporters on Friday that he didn't want to go. "By acting and not going, hopefully that will inspire some change when it comes to what we tolerate in this country and what is accepted and what we turn a blind eye to," he said.
Given Trump's stance on African American NFL players protesting racial oppression or saying that there were "many sides" to be considered at a white supremacist rally last month, it's understandable why the player wouldn't want to shake hands or pose with the president. Trump was majorly offended. He tweeted on Saturday, "Going to the White House is considered a great honor for a championship team. Stephen Curry is hesitating, therefore invitation is withdrawn!"
His response, like most of his random tweets, quickly went viral, prompting NBA players to respond to him. King James' might have the best. He wrote, "U bum @StephenCurry30 already said he ain't going! So therefore ain't no invite. Going to White House was a great honor until you showed up!"
As divisive as Trump is normally, it's pretty hilarious that he's managed to unite Curry and James, who are rivals on the court. James plays for the Cleveland Cavaliers and has gone up against Curry in the NBA Finals three times, including this year. His show of solidarity proves that politics matters more than sportsmanship sometimes.
James wasn't the only one to respond to Trump's tweet. Other NBA stars came at the president, too.
Kobe Bryant Had Something To Say
And NBA Players' Association President Chris Paul
Trump's words stung. The Warriors issued a statement on Saturday saying that it got the message loud and clear. The team said in a statement:
While we intended to meet as a team at the first opportunity we had this morning to collaboratively discuss a potential visit to the White House, we accept that President Trump has made it clear that we are not invited. We believe there is nothing more American than our citizens having the right to express themselves freely on matters important to them.
It added that it would still travel to D.C. as a team and celebrate "equality, diversity and inclusion." The NBA isn't the only sports league feuding with Trump. The president said that NFL players who protest the national anthem should be kicked off the field and that the league's ratings are low because of players like former 49ers quarterback Colin Kaepernick, whom he indirectly called a "son of a bitch."
Trump's stance on Kaepernick was something Curry noted when he same that he was undecided about going to D.C. He said:
It's not just the act of not going. There are things you have to do on the back end to actually push that message into motion. You can talk about all the different personalities that have said things and done things, from [Colin] Kaepernick to what happened to [Michael] Bennett to all sorts of examples of what has gone on in our country that we need to kind of change.
Curry added that that athletes like him are just using their platform for what they can. It's a shame that Trump insists on using his platform to ignore and antagonize them.