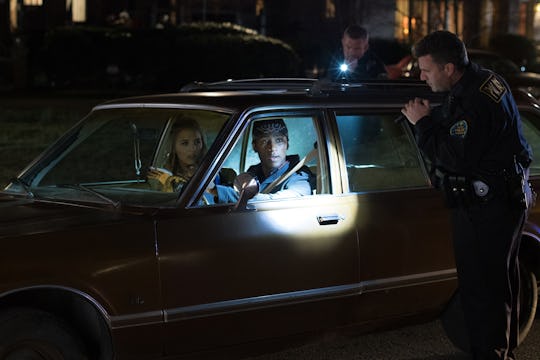 Jake Giles Netter/CMT
'Nashville' Addresses Racial Profiling In A Powerful Episode
Maddie and Clayton, young though they may be, have one of the most stable relationships on Nashville. They even rode out her mother's death together. So why did Maddie and Clayton break up on Nashville? The conflict is an important one for the show to unpack.
Clayton is driving Maddie back to her house at night — in Clay's regular car, through Maddie's very affluent neighborhood — when, unsurprisingly, he's pulled over for allegedly rolling through a stop sign. He begins going through the very careful motions of interacting with a police officer as a black man, knowing that this situation has the potential to spiral very quickly out of control. Meanwhile, Maddie works herself up, peppering the officer with a billion questions about why they've been pulled over, whether he's racial profiling Clayton, and why there are two sets of rules for how the pair of them are being handled.
By this point, white bystanders have begun doing their duty and filming the officers to try and keep them accountable. Maddie starts to film, too, but she keeps challenging the cops, leaving Clayton to keep both the officer and her calm. It's an impossible task, and eventually, Clayton and Maddie are asked to step out of the car. He tries to obey the officer while wrangling a very agitated Maddie, but because she won't obey orders, they both get detained for failure to comply with a police officer. It's heartbreaking to watch Clayton struggling so hard to do what he knows he has to do while Maddie irresponsibly escalates the situation.
Deacon comes to collect them both from the police station, but once video of the incident gets out, Clayton is hounded by reporters. Meanwhile, Maddie understandably faces her own internet flack for prioritizing her white feelings above the physical safety of her black boyfriend. Ultimately, it's too much for him and he requests that they take a break while he processes his feelings.
Maddie is heartbroken, and while Deacon knows a thing or two about how to counsel her through a breakup, he doesn't quite nail the white privilege accountability conversation. It's a tricky storyline to navigate, and Nashville has been criticized for its handling of racial issues in the past. They do seem to be focusing an awful lot on Maddie's feelings instead of following Clay's experience, but hopefully that's a setup for someone to eventually call her in and explain why her behavior was so problematic. (And not just because it resulted in a breakup.) The issue is complex, but for now, I think the storyline is worthy of cautious optimism.