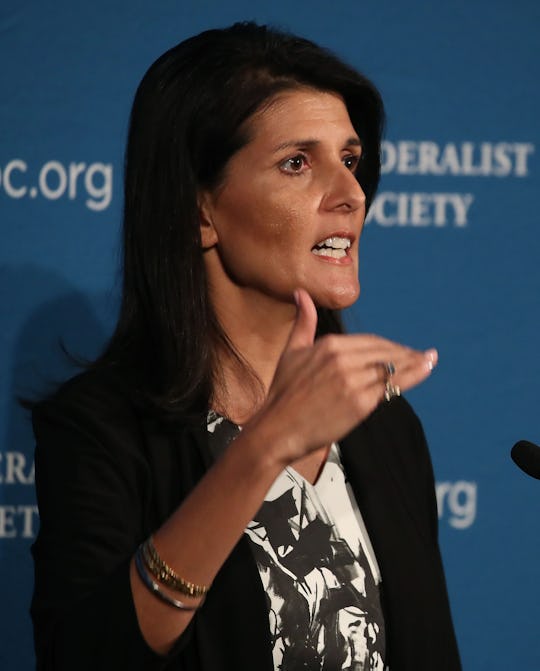 Mark Wilson/Getty Images News/Getty Images
Why Did Nikki Haley Change Her Name? It's Complicated
South Carolina Gov. Nikki Haley is something of a trailblazer. At the tender age of 44 years old, Haley has already managed to become not only the first female governor of the state of South Carolina, but also the first minority governor. And now President-elect Donald Trump has tapped her to become the United States Ambassador to the United Nations under his administration. The child of Indian immigrants, Nikki Haley changed her name from Nimrata Nikki Randhawa when she went in to politics.
Haley told The Charlotte Observer in 2010, when she became governor, that she dropped her maiden name simply because it "wouldn't fit on a yard sign," but not everyone is buying that. While the Republican Party has reportedly begun to embrace women and minorities in leadership roles as a way to broaden their voter pool, whether or not the GOP would have been welcoming of a woman with a Sikh heritage a few years ago is doubtful. And it's possible that Haley thought her Indian heritage might have been a tough pill to swallow for the Republicans as well; in 2001, Haley identified herself as "white" on a voter registration card, according to a report by the Associated Press.
Haley did convert to Christianity when she married her husband, National Guardsman Michael Haley (in an interesting twist, when Haley met her husband he was called by his first name, Bill, but she had him change to his middle name since "he didn't look like a Bill." Is she a secret name stylist?). The couple are raising their two children, Rena and Nalin, as Methodist, but Haley claims to attend services for both faiths.
Haley's appointment as the next United States ambassador to the United Nations has raised a few eyebrows despite her popularity within the Republican Party; first of all, she isn't known to have a great handle on foreign policy. Wisconsin Republican Sean Duffy told CNN he didn't think her lack of experience would be a big deal:
She's a smart woman. I don't think you need this great history of diplomatic experience to go in the UN and be successful. I think what you want to do is find people who will share your worldview especially when they go and represent you from the administration to the UN or any other post.
Haley and Trump have had a bit of a rocky history, with each of them throwing jabs at each other. Haley endorsed Florida Sen. Marco Rubio and said she "wasn't a fan" of Trump, while he famously Tweeted that the people of South Carolina were "embarrassed" by Haley. The two appear to have sorted through their differences for the sake of governing the country.
The real question is this: once Haley becomes the United States Ambassador to the United Nations, will she embrace her real name along with her heritage? She has credited her heritage with helping her see beyond racial differences in the past, and the United Nations is the perfect platform for her to openly embrace these differences.