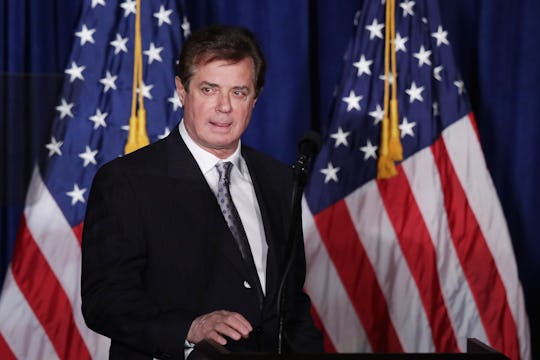 Chip Somodevilla/Getty Images News/Getty Images
Why Did Paul Manafort Resign From Trump's Campaign? His Russian Ties Proved Problematic
On Friday, only a few months after joining the Republican presidential candidate, Paul Manafort resigned from Donald Trump's campaign, becoming the second high-profile campaign change in recent months. Manafort, as Trump's campaign chair, was a top political consultant who was could reportedly turn around Trump's image problem. So what was behind Manafort's sudden decision to leave the Trump challenge?
As it turns out, it was a couple of things. Manafort quit just two days after Trump decided to restructure his campaign team a bit, pulling Stephen K. Bannon, chairman of Breitbart News, and strategist Kellyanne Conway into top positions. It was a move that many saw as sidelining Manafort, who originally wrote that he would "remain the campaign chairman and chief strategist, providing the big-picture, long-range campaign vision," despite the changes, according to The New York Times. (Spoiler alert: he only did so for two more days before quitting.)
Manafort's resignation also came shortly after news emerged linking Manafort to a pro-Russian political party in Ukraine. With recent talk of Trump's Russian ties in the news (remember when he called for Russians to hack into Hillary Clinton's servers? Yeah, that was weird), Manafort's connections were likely seen as a distraction that Trump's campaign simply can't afford at the moment.
So what's up with Manafort's ties to Russia? They're complicated, but they certainly don't look good for the Republican consultant. The New York Times reported on secret ledgers revealing that the political party of Viktor Yanukovych, a pro-Russian Ukrainian politician Manafort used to advise, was to send Manafort $12.7 million in cash payments. (Investigations have yet to reveal if Manafort actually received the money, although Manafort's lawyer says he didn't.)
According to The Atlantic, Manafort also recruited a lobbyist to influence the United States' Ukraine policies, although he never registered as a foreign agent with the American government, meaning he may have broken federal laws. Having Trump's already strangely pro-Russian sentiments associated with his advisor's possibly illegal lobbying efforts definitely wouldn't look good for Trump. With less than three months left until the general election, Trump would do well to avoid any more campaign controversies.
"You know, Paul was amazing," Trump's son Eric told Fox News on Friday. He hinted at the fact that Manafort's resignation may not have been his decision alone, saying, "My father just didn't want to have the distraction looming over the campaign and quite frankly looming over all the issues that Hillary's facing right now."
For Democrats, however, removing Manafort doesn't end the troublesome ties Trump has to Russia. According to CNN, Clinton's campaign manager, Robby Mook, said in a statement:
Paul Manafort's resignation is a clear admission that the disturbing connections between Donald Trump's team and pro-Kremlin elements in Russia and Ukraine are untenable. ... You can get rid of Manafort, but that doesn't end the odd bromance Trump has with Putin.
With Trump's semi-apology on Thursday night and Manafort's resignation, it looks like the Trump campaign is really shaking things up. Whether the changes will mean better poll numbers for Trump, though, remains to be seen.