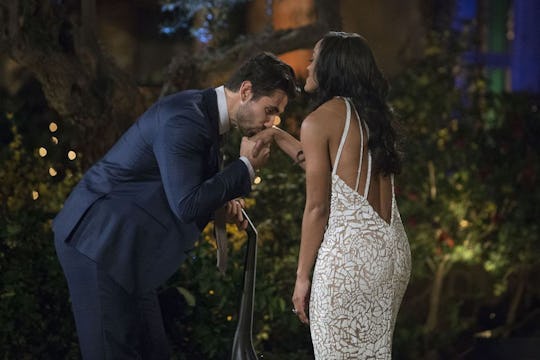 Paul Hebert/ABC
Rachel Faced Her Toughest Elimination Yet On 'The Bachelorette'
After two nights of several date eliminations and lots of emotional highs and lows, Rachel had to go through the most difficult goodbye so far this season and ended up eliminating Alex. But why did Rachel send Alex home on The Bachelorette? As hard as it was for her to do, she wasn't having the same kind of feelings for him as she was having with some of the other contestants.
Although Rachel and Alex didn't have a long talk about why she sent him home over some of the other men still competing who fans aren't even sure about at this point, she did reveal some of her reasons. "I'm just trying to follow my gut and my heart," Rachel admitted. "It just hurts, and it's sad, and it's real." So real, in fact, that when it came time for Rachel to give out roses at Tuesday night's rose ceremony, she ran from the room in tears at one point. So right then and there you knew the difficult elimination wasn't going to be someone like Matt or Adam, neither of whom have gotten real screen time with the Bachelorette.
Instead it was Alex, who took the elimination silently and gave Rachel the requisite hug before leaving Copenhagen and the rest of the remaining men behind.
"I'm here to find a husband, I'm here to find the one," Rachel said on Tuesday's Bachelorette episode. "But there's a possibility that it may not happen and that's when I get terrified. I'm fearful that I may regret a decision in sending someone home." At this point, every elimination has to be weighing heavily on Rachel's mind, so the whole second-guessing herself thing is totally expected and understandable. So when she sent Alex home, it was another difficult decision for her to deal with alone.
No, Alex wasn't the subject of any feuds among the other men, and he definitely hadn't done anything to personally offend the Bachelorette herself either. But Rachel felt that what she had with him wasn't at the same level as the connections she had already begun to form with others, so she did the right thing and sent him home before things could go any further.
Alex was a gentleman and a total sweetheart to Rachel the entire time he was on The Bachelorette. But in the end, she had to follow her instincts and they told her that she wasn't going to have a future with Alex.