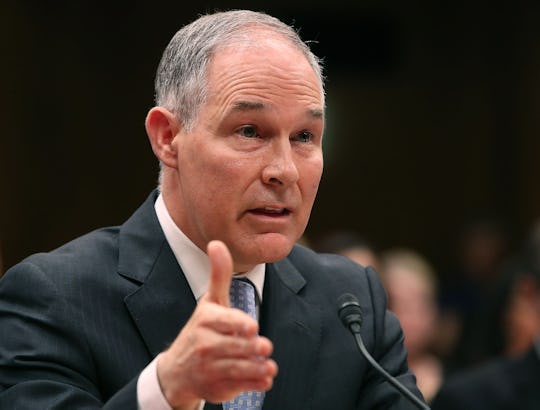 Mark Wilson/Getty Images News/Getty Images
Scott Pruitt Has Officially Resigned & Twitter Isn't Surprised
On Thursday afternoon, President Donald Trump announced via Twitter that he has accepted the resignation of Scott Pruitt, the Environmental Protection Agency (EPA) administrator who has often found himself shrouded by controversy. Why did Scott Pruitt resign? It would seem those scandals following the EPA chief became too much.
Pruitt, a climate skeptic and critic of his own agency, said that, although it's "extremely difficult" to "cease serving" the president, he must do so because "the unrelenting attacks on me personally, my family, are unprecedented and have taken a sizable toll on all of us," according to his resignation letter, which Fox News obtained and posted to Twitter. Friday will be his last day as head of the EPA, after which Andrew Wheeler, EPA Deputy Administrator, will assume duties as acting chief starting Monday, Trump confirmed on Twitter.
"Within the agency, Scott has done an outstanding job, and I will always be thankful to him for this," Trump tweeted in a two-part thread Thursday afternoon when announcing Pruitt's resignation. He added, "We have made tremendous progress and the future of the EPA is very bright."
Romper has reached out to the EPA for comment, but did not hear back in time for publication.
The "attacks" Pruitt referred to are the many ethics controversies that have followed him over the last year. Since his appointment, environmental groups, government watchdogs, and lawmakers from both sides of the political isle have all questioned his practices at the agency, according to CNN.
The soon-to-be former EPA administrator has been the subject of more than a dozen inquiries or reviews into his dealings while in office, CNN reported. Pruitt has come under fire for allegedly spending taxpayer money on first-class plane travel, spending on security, using his office for favors, installing a soundproof phone booth in his office, renting a room from a lobbyist, and having connections to industry groups and lobbyists, according to CNN.
Watchdogs have also accuses Pruitt of using his office to secure jobs for his wife. In one case, the embattled EPA chief allegedly had aides try to land her a six-figure job at the Republican Attorneys General Association, according to Yahoo! Finance. In another case, he allegedly made an aide contact a fast-food chain executive to discuss the possibility of Pruitt's wife becoming a franchise owner, Yahoo! Finance reported.
Despite the long list of scandals, White House staffers were surprised by Pruitt's resignation, according to CNN. But the Twitterverse saw it coming, and had thoughts — a lot of thoughts.
Pruitt's resignation also comes three days after he was confronted at a restaurant in Washington, D.C. by a mom with her 2-year-old son. The mom, Kristin Mink, uploaded a video of the incident to her Facebook page, writing in a post that she politely walked up to Pruitt in the restaurant, introduced her son, and told the chief that her child "loves animals, breathing clean air, and drinking clean water," according to USA Today.
As EPA chief, Pruitt tried to roll back a number of regulations implemented by the Obama administration that addressed climate change, clean air, and water quality, USA Today reported. But his attempts to undo these efforts didn't start in office: Prior to taking on the post, Pruitt challenged the Clean Power Plan as attorney general of Oklahoma, and sued the agency 14 times on behalf of his state, according to USA Today.
Which brings it back to Mink. The teacher could be heard in the video urging Pruitt to resign "before your scandals push you out." The EPA chief "got up and left," she wrote on Facebook. (Romper reached out to Mink, but she did not respond to Romper's request for comment.)
And now he has resigned. Coincidence? Maybe.