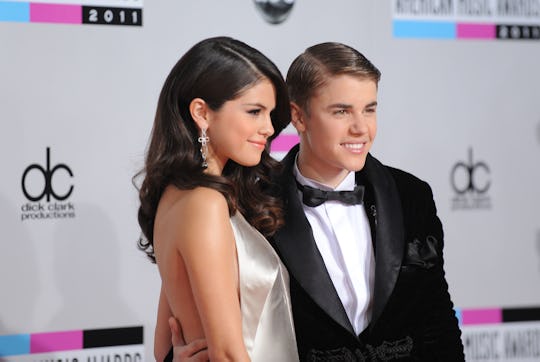 Jason Merritt/Getty
Why Did Selena Gomez & Justin Bieber Break Up? Both Sides Take Responsibility For The Split
First loves are tough AF. You fall so hard and so fast for someone that you feel on top of the world and think you'll be with that special someone forever. And then when you inevitably breakup, you're left analyzing the relationship and wondering where it all went wrong. That's probably why almost two years after their split, people are stilling asking why did Selena Gomez and Justin Bieber break up?
A lot has happened since the demise of Jelena, but people are still obsessing over the end of the music industry's cutest couple. It's just that important people.
As with any relationship, there's a lot of he said, she said, and the same applies to Gomez and Bieber. At first the two blamed busy schedules for their split, but eventually shifted the blame to each other. But now that the two have had time to reflect on their relationship, both agree that they are each partially to blame for the breakup that made tweens cry into their pillows.
Bieber was the first to speak up about his relationship revelations. In the October/November 2015 issue of Complex magazine, the 21-year-old singer admitted that the couple's love was intense, leading to good and bad scenarios intense in good and bad ways.
"When stuff would happen, I would lose my freakin' mind, and she would lose her mind, and we would fight so hard because we were so invested in each other," Bieber told the magazine. He added that the relationship moved very fast, especially since they were so young. (At the time of their breakup, Bieber was 19-years-old and Gomez was 21-years-old.) "Living with a girl, it was just too much at that age," he said. "But we were so in love. Nothing else mattered."
Shortly after Bieber's statements came out, Gomez offered her own opinion on their relationship. In an interview with Refinery29, the 23-year-old singer offered a simple explanation for their split.
"We both made mistakes," she said. "That's it." Gomez went on to explain that they tried to make things work, but at the end of the day their problems were too big to overcome and "at the end of the day, you have to accept what is in front of you." She adds, however, that the two are on good terms and that "there is no anger. There's closure in a very good, healthy way."
As for whether there will ever be a Jelena 2.0, all signs point to no. Though Gomez is currently single, she has been linked ot One Direction's Niall Horan as well as singer Zedd. And, as Us Weekly reported, Bieber has been linked to Hailey Baldwin, though she says the two are not an official couple.
But even so, the world will always have a special place in its heart for Gomez and Beieber. And to be honest, can you blame the world for that?