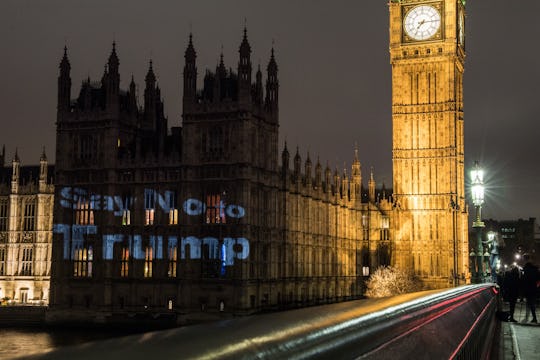 Chris J Ratcliffe/Getty Images News/Getty Images
The U.K. Just Voted Against A Trump State Visit
Earlier this month, U.K. Prime Minister Theresa May visited the White House to meet and and talk shop with President Trump. But on Monday, the U.K. Parliament debated whether or not they would invite President Trump for a state visit this year to return the hospitality. After a lengthy and contentious debate, however, the British Parliament voted against a Trump state visit. To be clear, they did not vote against Trump ever boarding a plane to meet May on Downing Street or from ever enjoying a classic English fry-up in a London pub.
Parliament merely voted against an official state visit, which is an entirely different thing than "banning" someone from visiting the county or barring him from meeting with May. State visits are a bigger deal. State visit invites in the United Kingdom are normally sent from the prime minister, but are essentially hosted by the Queen, which means that the visiting dignitary is offered a lot of fanfare, like a carriage ride with the Queen, a formal banquet, and other niceties (like getting to meet Kate Middleton's adorable children). Although the United Kingdom (and Buckingham Palace) has opened its doors to many American presidents (and also other controversial foreign dignitaries) in the past, it usually doesn't invite a sitting American president in the first year of their presidency.
After May's visit to Washington, Trump declared that he would be making a formal state visit to the United Kingdom. within the year. In response, a petition was promptly created and signed by about 2 million U.K. citizens protesting his proposed state visit, proving that Trump had sort of invited himself to a party that the United Kingdom didn't even know it was going to throw.
It can't be repeated enough, so let's just say it one more time: the United Kingdom did not ban Trump from visiting their country. They voted against the state visit that Trump suggested was in the works. Many presidents visit the United Kingdom within the first year of their presidency, but they do so by stopping by to meet the prime minister for a quick tea or on some other sort of social call. President Kennedy, for example, visited his ancestral village.
But a "state visit" is a bigger deal. President George W. Bush, for example, didn't have a state visit until 2003. President Obama, though he visited the United Kingdom just after taking office, didn't get the whole royal parade and party until 2011.
On Monday, the debate in British Parliament centered around welcoming Trump in such a formal, traditional way before they even really knew what he was all about. A lot of the debate centered around his controversial statements on immigration and foreign policy, which are the same kind of policies the United Kingdom is debating itself right now. It's also still reeling from the Brexit vote last year and the country is as divided as America is right now. Trump's immigration policy and plan to build a border wall in Mexico strike some British parliament members as too controversial and unbefitting of an audience with the queen. Others merely called him a "petulant child."
David Lammy, a member of the Labour Party said that inviting Trump after so little time in power would be abandoning U.K. principles. According to CNN he said, "We didn't do this for Kennedy, we didn't do this for Truman, we didn't do this for Reagan, but for this man we say, 'Please come and we will lay on everything, because we are so desperate for your company.' I think this country is greater than that."
Then again, some other members of the Parliament figured that, in the wake of Brexit, it was foolish to not invite an American president, even if that president was "grotesque." Simon Burns, a member of the Conservative party said:
America is our greatest ally. It has been for a considerable amount of time. It has stood by us, shoulder to shoulder, in our hour of need, as we did in their hour of need, particularly during 9/11." But even he seemed torn. He added, "It is to my mind foolish to allow our personal views and assessments of an individual, and some of their more grotesque characteristics and behavior, to blur what is in Britain's national interest.
Trump might get his parade with Queen Elizabeth and his state banquet in Buckingham Palace someday while in office. But for now, the British Parliament has merely decided that it won't invite Trump to parade around London with the Queen as part of a state visit until there's more information about his immigration policies and exactly how he plans to make America great again.