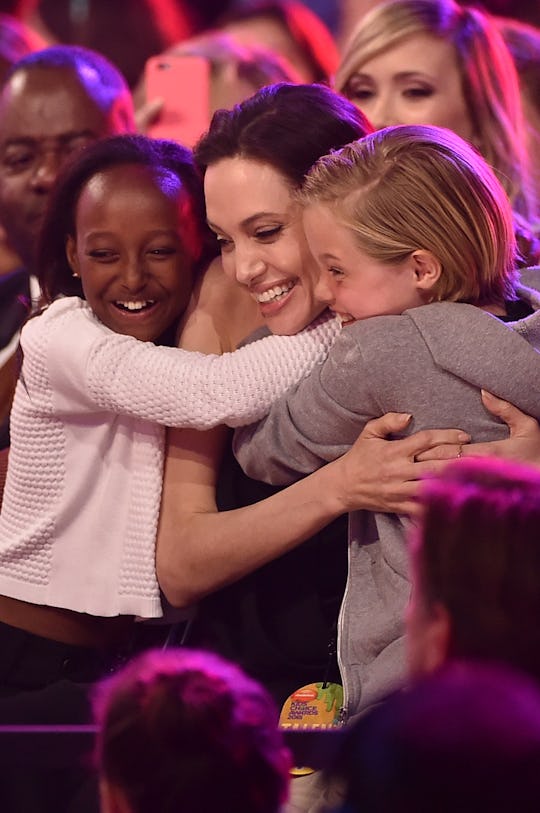 Kevin Winter/Getty Images Entertainment/Getty Images
Why Did The FBI Interview Angelina Jolie & Her Kids? It's All About The Plane Allegations
The ongoing saga of the Angelina Jolie-Brad Pitt divorce continues. Ever since TMZ broke the news that Jolie filed for divorce in September, a flurry of media coverage has speculated on all the details of the Hollywood duo's shocking split — everything from allegations of child abuse and police investigations to Pitt's rumored drug use and differences in parenting styles. Fans have eagerly been wondering: Where are the children? Will Jolie win sole physical custody? Is true love dead? But the latest question on everyone's minds is, why did the FBI interview Angelina Jolie and her kids?
"Sources in law enforcement" have told TMZ that two FBI agents visited Jolie on Tuesday at her home in Malibu, where they questioned her and the children about an alleged Sept. 14 incident between Pitt and his 15-year-old son, Maddox, onboard the former couple's private plane. An anonymous report claimed that during an argument with Jolie, Pitt allegedly became verbally and physically abusive with Maddox when the teenager tried to intervene. According to TMZ, the FBI interview largely focused on identifying the location of the airplane at the time the alleged altercation took place. This key piece of information will help the FBI — apparently still in a "fact-finding stage" versus conducting a formal investigation — determine whether it has jurisdiction over the matter. Pitt's representative has not responded to Romper's requests for comment.
This latest development comes as the expiration of Jolie and Pitt's temporary custody arrangement nears. The terms of the three-week agreement (originally reached Sept. 30) gave Jolie sole physical custody until Oct. 20, according to Vanity Fair. The plan also required individual counseling for Pitt and Jolie, in addition to family counseling; mandated the presence of a therapist during Pitt's first visit with the kids post-split; and subjected Pitt to random drug and alcohol testing. (TMZ reported Pitt's first test, which he took voluntarily, came back negative.)
The deal was first suggested by the L.A. County Department of Children and Family Service (DCFS) and negotiated by Pitt and Jolie's separate legal teams. L.A.-based lawyer Hossein Berenji, who is not working with the couple, told US Weekly the agreement likely benefited both parties:
I think that for Angelina's purposes, temporarily at least, this does the trick for her to make sure the children are safe while seeing Brad and possibly have Brad take some responsibility for maybe certain behaviors that he's displayed or certain characteristics ... For (Pitt), the best way to vindicate himself might be to put himself through this process even though there might be a stigma attached to it. It might actually just be a way to deal with this and put down all these rumors in a very short, fast, quick period of time that will not involve a whole huge scandal where the kids and their lives and their past and everything is dragged through public media. So there is a benefit I can see to both sides, and I can see why both sides might be willing to go through this process and get this done.
When the temporary arrangement officially expires, the DCFS will help determine whether the conditions continue, according to US Weekly. The department will take into consideration the therapist's recommendations, the results of Pitt's drug testing, and input from the estranged spouses themselves. An insider told the magazine that those involved in the case would like the two sides to reach a longer-term custody agreement on their own.
The hope is that this period of time will lead them to being able to resolve things without the involvement of the courts.
For the kids' sake, let's hope that's what happens.