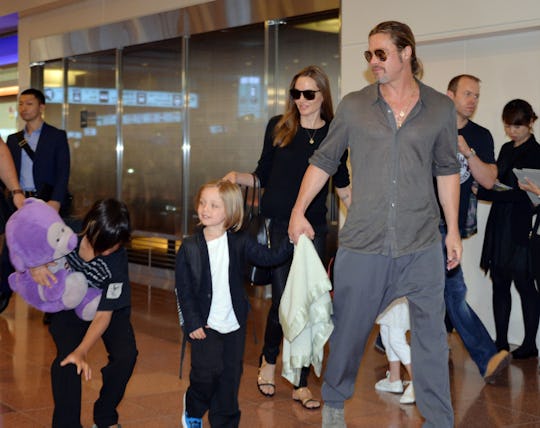 YOSHIKAZU TSUNO/AFP/Getty Images
What Happened Between Brad Pitt & His Kids On The Plane? The Details Are Unclear
Remember just a short 72 hours ago, when Brangelina was still a thing and our world was normal? Now do you remember 48 hours ago, when we thought the news that Angelina Jolie would be divorcing Brad Pitt felt like one of the seven signs of the apocalypse? And we were all like, how much worse could this get? Well, guys — it's gotten much, much worse. Brad Pitt reportedly had an incident with his kids on their private plane, with alleged verbal and physical abuse involved, though police and representatives have denied the allegations.
According to reports by TMZ and People, Pitt was reportedly abusive with one of his children on the family's private plane while under the influence of alcohol. Pitt allegedly left the private plane and did not return to the family's Los Angeles home with them when the plane landed, instead attempting to leave on a fuel truck on the tarmac. Jolie was on the plane with him at the time, as well as some of the couple's other children. While it was initially reported that local police authorities were investigating the incident, this has since been refuted by the LAPD. In a statement released through The Hollywood Reporter, Sgt. Barry Montgomery of the LAPD said:
We have no criminal investigation that we are actively pursuing. To my knowledge, [Pitt talking to police] never happened. And right now, that is where our office is. We are not investigating any case, nor do we have any allegations against Mr. Pitt. We understand how rumors get spun up, and hopefully we can put a few of them to rest. We have no investigation involving Mr. Pitt.
Pitt and Jolie have six children together: Maddox, 15, Pax, 12, Zahara, 11, Shiloh, 10, and 8-year-old twins Knox and Vivienne. When news of their impending divorce broke out (Jolie cited "irreconcilable differences" when she filed for divorce and asked for sole custody of their children), Pitt released one short statement to People:
I am very saddened by this, but what matters most now is the wellbeing of our kids. I kindly ask the press to give them the space they deserve during this challenging time.
A statement from Jolie's lawyer read that she "has filed for dissolution of the marriage. This decision was made for the health of the family."
While nothing was said at the time about allegations of abuse, some sources reported that Pitt and Jolie were not on the same page with their parenting styles, and that Pitt was suffering from a substance abuse issue.
Although the LAPD continues to assert that it is not investigating the incident on the plane, sources with knowledge of the issue reportedly told People that the L.A. County Department of Children and Family Services as well as the F.B.I. are investigating the alleged claims that Pitt was verbally abusive with one of his children, or became "physical." The source told People that Pitt is cooperating fully:
He takes the matter very seriously. It's unfortunate that people involved are continuing to present him in the worst possible light.
Romper has reached out to both Pitt's and Jolie's representatives and is awaiting a response.