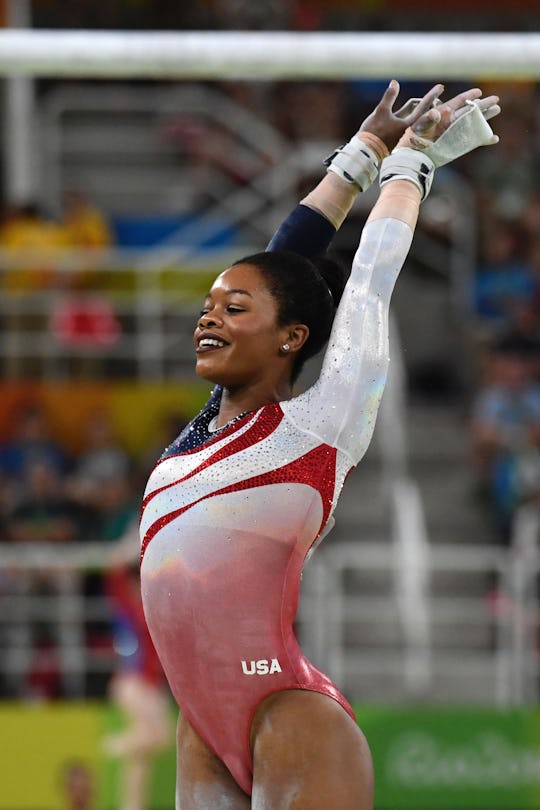 BEN STANSALL/AFP/Getty Images
Why Didn't Gabby Douglas Put Her Hand Over Her Heart For The US Anthem? It Wasn't A Diss
Gabby Douglas is the first black gymnast in Olympic history to become the Individual All-Around Champion in the Olympic Games. The 20-year-old gold medalist has made history, but it has not come without extreme scrutiny under the public eye. Even during her historic feat in the London 2012 Olympic Games, Douglas' hair somehow became the center of social media critique. And as Douglas joined her four teammates, Laurie Hernandez, Aly Raisman, Simone Biles, and Madison Kocian, for the medal ceremony and the playing of the Star Spangled Banner on Tuesday, Douglas drew more criticism, as she celebrated her team's all-around competition gold win. The Olympic gymnast didn't put her hand over heart during the national anthem – and social media was flooded with criticism. So, why didn't Douglas put her hand over her heart for the U.S anthem? She was standing at attention, and proudly honoring the win her team took home for the United States. And that's all.
Many people took to social media to accuse Douglas of not showing "respect" for her country, and the country's flag. But what is blatantly missing from this rhetoric is the acknowledgement that Douglas has dedicated and sacrificed so much to accomplish all that she has in gymnastics – you know, for the American gymnastics Olympic team. Twitter user, Fairy Jane Paul, perfectly articulated this point:
But many took to Twitter to condemn Douglas' ever-so unpatriotic act.
The Washington Post pointed out that the U.S Code for Conduct lists a revision from a 2008 rule. It says, "all present except those in uniform should stand at attention facing the flag with the right hand over the heart."
But in practice, it is not uncommon at all, for athletes and other people to stand at attention during the national anthem. In fact, this is common at many national baseball games and other sporting events. Professional tennis player, Nicole Gibbs, came to Douglas' defense explaining that she does the same thing. "I do the same - stand attention without hand over heart," Gibbs wrote. "Not sure what the big deal is."
I'm not sure either, Nicole.
Other Twitter users were quick to call out the hypocrisy in the swift backlash for Douglas, by tweeting pictures of other American professional athletes and public officials standing at attention as Douglas was.
And as for the Olympic gold medalist herself, Douglas directly addressed the criticism on Twitter, explaining that she "never meant any disrespect" — a statement that I would like to think shouldn't have been necessary to make in the first place. But here we are.
"...I always stand at attention out of respect for our country whenever the national anthem is played," she wrote. "I never meant any disrespect and apologize if I offended anyone..."
Douglas is a history-breaking Olympic athlete who is an inspiration for all girls, and especially black girls in gymnastics — a sport that still struggles with inclusion and perpetuated stereotypes and biases. Between having her own barbie doll (total black girl magic), and her team's Olympic gold win, Douglas' name should be attached to her incredible achievements, not her hairstyles, and definitely not a question of her "patriotism."