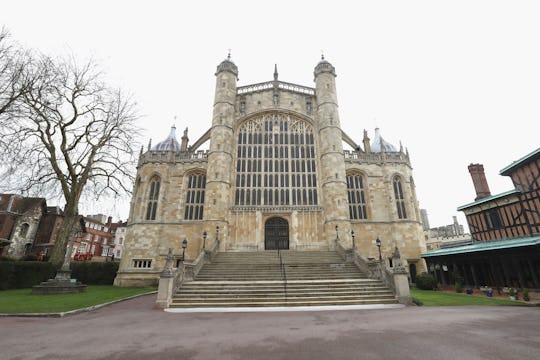 Chris Jackson/Getty Images Entertainment/Getty Images
Here's Why Prince Harry & Meghan Markle Didn't Get Married At Westminster Abbey
It's happening. I hope you've had your tea and your biscuits (McVitie's preferably), because it's time to watch the latest royal love story unfold on your TV. It's been seven years since the world watched Prince William and Kate Middleton marry at Westminster Abbey, so it's no wonder everyone's beyond ready to see Prince Harry kiss Meghan Markle on the balcony. But there are a few things different between the weddings. Like why didn't Prince Harry and Meghan Markle get married at Westminster Abbey? Like most royal wedding decisions, this one was made with a dose of tradition and the personalities of the couple in mind.
Originally, many believed that Markle could not get married at Westminster Abbey because she divorced from her first husband, which kind of makes sense considering all the traditional rules surrounding marriage and churches. But it's no longer the 15th century and things seem to be changing. According to Express, Westminster Abbey released a statement that said, "The Abbey follows the General Synod Ruling of 2002. Since then it has been possible for divorced people to be married in the Church of England." Which, duh, right? Wasn't the whole point of the Church of England's creation so King Henry VIII could get a divorce? Come on now.
Vanity Fair also noted that Markle's father being Jewish doesn't prevent her from marrying in the grand Westminster Abbey like some believed either. In fact, the only "hold up" would be Prince Harry getting permission from Queen Elizabeth and getting a special "license" from the Archbishop of Canterbury, both of which seem like fairly easy-to-complete things for Harry.
But just because tradition dictates that Prince Harry and Meghan Markle can follow in the royal wedding footsteps of Prince William and Kate Middleton doesn't mean they want to. The Sun reported that while Westminster Abbey can seat 2,000 guests, St George's Chapel, the chapel on the grounds of Windsor Castle, can hold about 800 guests. This gives Markle and Prince Harry a more low-key event and a venue that feels a little more intimate than the giant Westminster Abbey. (If you can count 800 guests as "intimate" and a royal wedding being televised all over the globe as "low-key.")
But St George's Chapel is still pretty grand and the choice has become pretty popular with Londoners. According to The Telegraph, when there's a wedding or event at Westminster Abbey, many of those living in London have a difficult time navigating the city as The Mall is closed for the royal wedding traffic and guests. But having their wedding on the grounds of Windsor Castle means Markle and Harry will be sharing their wedding procession and other traditional moments of the event right there in one space, cutting down on traffic and London mayhem.
Plus, St George's Chapel is just really beautiful. The Sun reported that the chapel is considered one of the "finest examples of Gothic architecture in England" with incredible stone fan vaulting and stained glass windows. It's also steeped in history and is the final resting place for notable monarchs like King Henry VIII, Jane Seymour, Princess Margaret, and the Queen Mother. Prince Harry was also baptized in the chapel in 1984, and his father's second marriage to the Duchess of Cornwall was blessed in the chapel after their registrar office ceremony in 2005.
For the couple, it seems the choice to have their wedding at St George's Chapel was very intentional. They wanted intimacy, they wanted history, and they want to make the day about their love. Having it in such a historic part of England, and of Prince Harry's life, is much grander than a Westminster Abbey wedding.