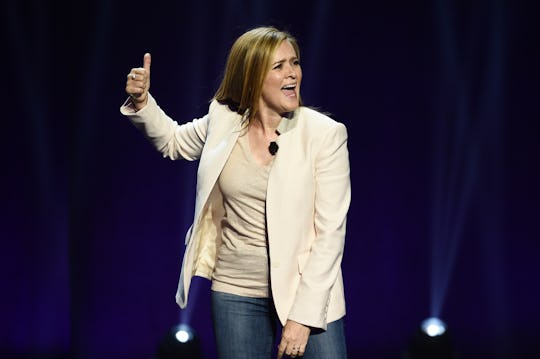 Dimitrios Kambouris/Getty Images Entertainment/Getty Images
Why Didn't Samantha Bee Get An Emmy Nomination? The Internet Isn't Happy With The Snub
Emmy season is in partial swing, with the 2016 Emmy nominations officially being announced. As with any away show, there were several surprises — both good and bad — when Anthony Anderson and Lauren Graham announced the lists of Emmy contenders Thursday morning. And one question people are asking across the internet is why didn't Samantha Bee get an Emmy nomination.
Fans of the comedian and her variety talk show, Full Frontal With Samantha Bee, were shocked to see the actress and series missing from the list of 2016 Emmy nominations. And for good reason. As the only woman swimming in a sea of male late-night hosts, the bar was set pretty high for the former Daily Show correspondent when her show premiered in February 2016. But Bee exceeded expectations, earning Full Frontal With Samantha Bee a 100 percent on Rotten Tomatoes. Bee's commentary on social issues was a welcome change from what fans are used to hearing, and her female perspective was a fresh switch up too.
But she's switching up things behind the camera too. In an interview with Rolling Stone, Bee said she took a blind approach to hiring writers, which resulted in a staff made of 50 percent women and 30 percent. Though that is a huge feat for any television series, Bee said the industry still has a long way to go. "We don't feel like we solved the diversity problem," she said. "We didn't fix racism, quite."
Given her talent on and off the screen, many thought Bee was a shoe-in for the Emmy nomination list. So what the hell happened?
Many have been quick to call out sexism, given the that the 2016 Emmy nominations for Outstanding Variety Talk Series consists of only male-run shows. Others think that because Full Frontal With Samantha Bee is on TBS, a small network that rarely gets award show love, it may have been overlooked by the committee.
Regardless of the reason, fans of series and it's titular star are upset with the lack of nominations.
Though it is worth noting that the show's kick ass team of writers earned a nomination for Outstanding Writing For a Variety Series.
Here's hoping 2017 brings a little more luck to the show and star that are changing the world of comedy.