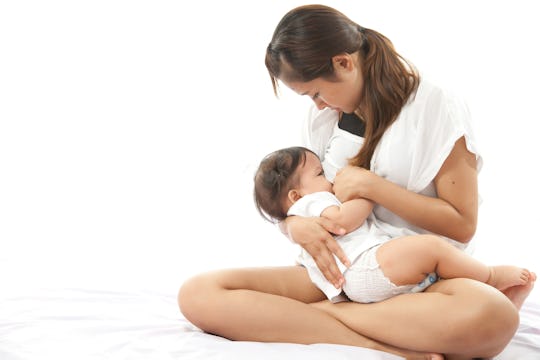 Jomphong Polprasart/Fotolia
Why Do Babies Have Bad Latch? 5 Possible Causes For Your Baby's Poor Latch
I worried about a lot of things when my daughter was born, but watching her breastfeed gave way to a new list of fears and anxieties — especially when it came to her latch. All of the advice I had heard about breastfeeding basically said that it was important for your little one to have a good latch, but I had no idea what that meant. Learning the answer to why babies do have bad latch was more of a relief than trying to make sure my daughter perfected hers.
According to KellyMom, there are two important things to keep in mind about your baby's latch — it should be effective and it should be comfortable. Although there are some initial pains with breastfeeding, What to Expect noted that a good latch shouldn't hurt or leave you with painful, cracked nipples.
The best way to learn about what causes babies to have a bad latch is to understand what makes a good latch. La Leche League International (LLLI) noted that a good latch is comprised of three things — your baby's nose is almost touching your breast, your baby's lips are flanged, and at least 1/2 an inch of the base of your breast around the nipple is in your baby's mouth. This requires your baby to open their mouth wide to get a good latch, which sounds fairly simple, but there are five reasons why a baby might have a bad latch, whether it's keeping their nose from touching your breast or inhibiting them from opening their mouth wide enough to take in your breast.