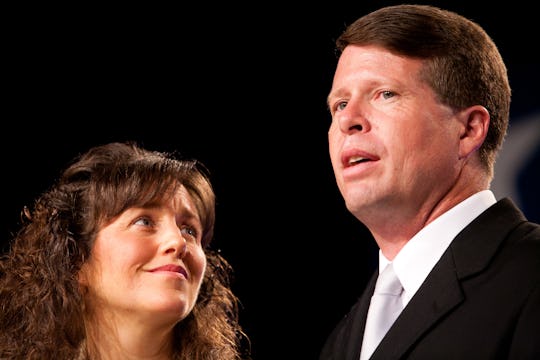 Brendan Hoffman/Getty Images Entertainment/Getty Images
This Is Why The Duggars Have Custody Of Their Great-Nephew Tyler
While having 19 kids and a handful of grandchildren may seem like a lot already, the Duggars have also added another kid into the mix with their great nephew, Tyler Wayne Hutchins. So, why do the Duggars have custody of Tyler? Well, the young boy has reportedly had a pretty rough life and it seems that the famed family wants to help him live life with less stress and a bit more normalcy.
Jim Bob and Michelle Duggar were reportedly granted custody of their great-nephew, 9-year-old Tyler back, in November of 2016, following his mother's arrest and his grandmother's stroke. According to Us Weekly, the Duggar family's lawyer, Travis Story, argued that Tyler's mom, Rachel Hutchins, was unfit to care for him presently. According to Us Weekly's report at the time of the court's decision, Story alleged that Tyler's mother "recently exhibited a pattern of behavior demonstrating that she is presently unable to meet Tyler's health, safety, and other needs." Additionally, he claimed that she was "unemployed, has no means of transportation and is currently on probation."
Fortunately, Tyler now seems to be in good hands with the Duggars, though, according to the Independent Journal Review, at the time when they were granted custody of Tyler, the family was also still dealing with the controversy surrounding allegations that their oldest son had reportedly molested several of their own daughters.
Nevertheless, they stepped in and took Tyler into their home and made him feel welcome. And, it seems as though Tyler has been fitting right in with the famous family. According to an anonymous source who spoke to In Touch Weekly, following the family's custody agreement, "Jim Bob and Michelle couldn't be happier right now." The source continued, "Jim Bob and Michelle have made the child feel right at home. They treat him like their own and he looks up to them as parents."
Now, considering the fact that the Duggars are former and current reality television stars, it would make sense to assume that fans would be seeing lots of Tyler on their show. But, as In Touch Weekly reported, "Jim Bob and Michelle plan to keep their 20th child off of TV, which means fans of Jill & Jessa: Counting On may never get to meet the new addition to the family" on TV, which is perfectly OK. Especially considering the fact that the family has posted photos of Tyler to their Facebook page on several occasions, so fans can certainly get their fill of family time.
In a February post shared to the family's Facebook page, Jim Bob and Michelle sent Tyler their well wishes for his 9th birthday:
Happy 9th Birthday Tyler! We are so glad to have you in our home and a part of our family! Your bright smile and sweet spirit brings much joy to us all!Jackson loves having a "little brother/cousin" to ride bikes and play with and read your Bibles together.
The Duggars also went on to express their hopes and prayers for young Tyler before signing off as "Aunt Michelle & Uncle Jim Bob." So, while they may have custody of Tyler right now, it seems like that they aren't assuming that will always be the case or plan on completely replacing his own mother.
While they haven't said anything publicly about their niece, the Independent Journal Review reported that Tyler's mom enjoyed spending time with the Duggars. "Despite a number of setbacks, including having a child when she was a young teen, she spent a lot of time with her Duggar cousins," according to the publication.
So, there's always a chance that Tyler's mother could find her way back into a her son's life and perhaps regain custody one day, but for now it seems as though he is happy and healthy with his extended family.
Check out Romper's new video series, Romper's Doula Diaries:
Watch full episodes of Romper's Doula Diaries on Facebook Watch.