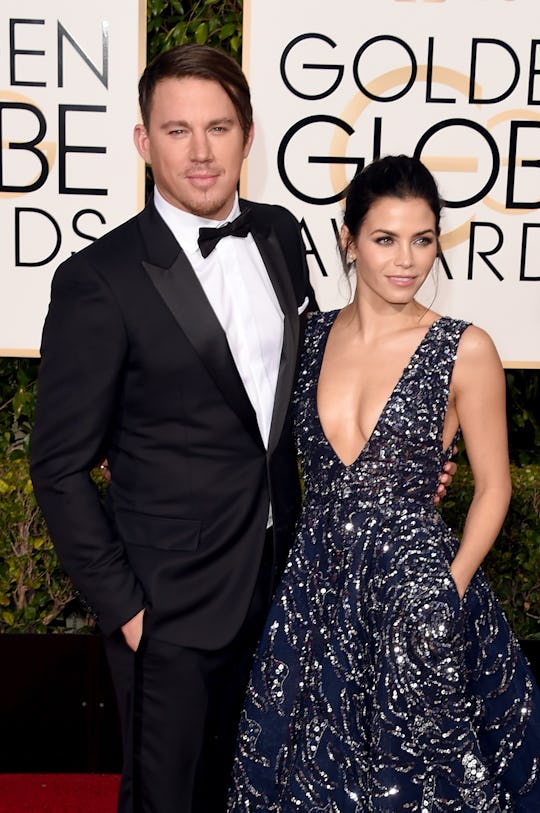 Getty Images
Why Does Channing Tatum Have A Combover? His Golden Globes Hairstyle Causes Confusion On Twitter
Maybe boys will be boys, but when boys let people do their hair, things can go horribly wrong. Like Channing Tatum's combover on the Golden Globes red carpet. Chan, my man — what gives? He and his wife Jenna Dewan Tatum looked stellar on the red carpet, but all anyone could think about was what was on top of his head?
He and his wife Jenna Dewan made headlines this week after Tatum performed on Lip Sync Battle with Beyonce. They had a great week. They might be one of the hottest couples in attendance tonight. But that hair?
Some have speculated that it is for his current role in Gambit. But it's not like growing a beard or having a shaved head. You can change a combover once you get off set. Channing, why didn't you do that? Jenna, surely you said something in the Uber on your way over? What's the point of having an SO if they don't tell you when your hair looks all kinds of dumb?
Gambit is an X-Men spinoff, and it's true, the character has some bad hair. But there must be a way. Slick it back, make a mini (mini,mini) man bun. Keep it messy. Anything but this horrible, semi-greasy looking combover.
We all know actors need to get into character. But do you have to get all Method for an X-Men movie? Call me selfish, but it sort of just ruined my vibe.
Twitter Had A Few Explanations...
But Mainly Everyone Was Just Confused
Channing, you need to talk to your stylist, stat. And maybe your agent, if he's going to get you gigs like this. I only say this because I care.
Image: Jason Merritt/Getty Images