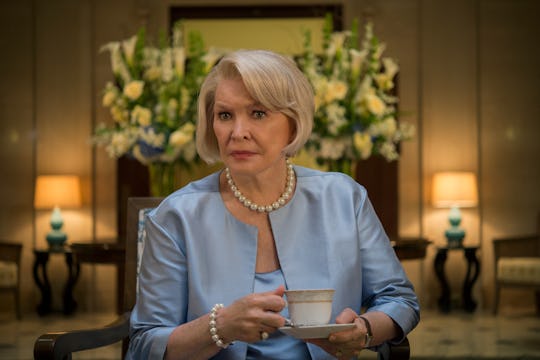 David Giesbrecht/Netflix
Why Does Claire's Mom Hate Frank On 'House Of Cards' Season 4? She's Dead Set Against The President
We always knew Claire Underwood came from gentility. And it wasn't just the way she carried herself, or her grace under pressure. When her husband Frank let his guard down for a few brief, beautiful moments during Season 3 with writer Tom Yates, he admitted that he had always felt "ashamed" that she said yes to his marriage proposal. He didn't feel like he deserved her. And neither, it seems, did Claire's mother. Now we are finally meeting Elizabeth Hale in Season 4, and it is abundantly clear that Claire's mother hates Frank on House of Cards. But why? (Spoilers for those that have not caught up with the current season.)
"He is a classless, raceless, shameless barbarian." These are the opening lines of Season 4, Episode 2 of House of Cards. Claire's mother, Elizabeth Hale, dressed in blue silk and pearls and a confident smile, is taking tea with a clearly powerful group of ladies-who-lunch and dissing her own son-in-law, President Underwood. The ladies, all aging southern belles, are clearly itching to get the dirt on Frank, especially the way Frank used Elizabeth's very private battle against cancer in the Episode 1 to stave off media speculation about his relationship with Claire. (Can we just talk about how coldly he dropped that bombshell on Claire? Ice, ice, baby.)
Elizabeth gets her own back, though. She asks the ladies-who-lunch to reach into their deep pockets to support Dunbar. Because, "When he loses, Claire can begin her own career. Which is far more important to me."
This isn't the first instance when Elizabeth shows her utter, polished disdain for Frank. In the first episode of the season, she refers to him as "white trash." When he points out that he does live in the White House, she smugly retorts, "And you still don't have any class."
So is that what all of this is about? She just can't forgive Frank for coming from what she considers a "low" background? For attempting to rise above his station?And the strange thing is, Frank doesn't seem able to defend himself with her. Frank Underwood, diabolical President of the United States with a Machiavellian talent for revenge, didn't really hold his own in an argument with Elizabeth. It was like he went back to being the boy from the peach farm, putting on airs and trying to make it with the girl from the Big House.
And that girl from the Big House? She's no slouch in the Machiavellian department, either. Something she might have inherited from her mother, along with those laser cut cheekbones. The two women obviously have a complicated relationship — after all, Elizabeth had cancer for quite some time and never said a word to Claire about it. Still, the two seem to be working in tandem to oust Frank. And with these two women against him, Frank might want to pull up his socks and get ready for a war. Because whether Elizabeth hates Frank for his background, or for rising beyond his station, or even for underestimating her daughter, I am sensing this is not a woman who takes too fondly to losing.