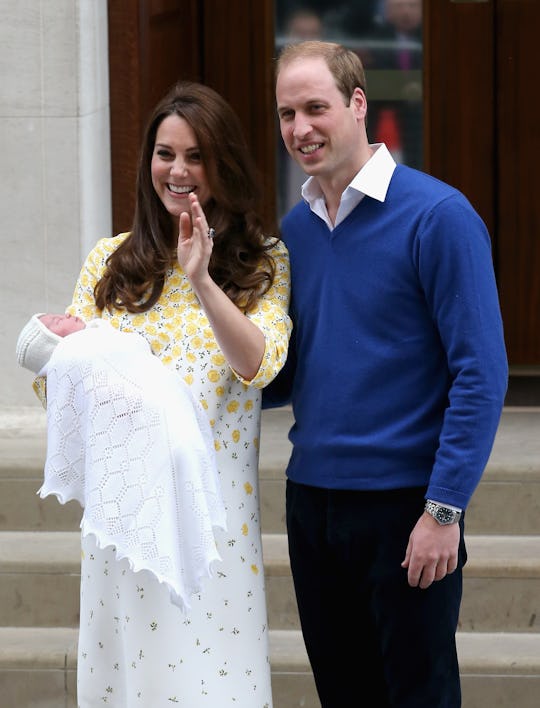 Chris Jackson/Getty Images Entertainment/Getty Images
Here's Why Kate Middleton Leaves The Hospital *Really* Quickly After Birth
The newest addition to the royal family has made his arrival! While his name is still unknown, the little prince is already making headlines and fans are anxiously awaiting their first glimpse at him. But is the pressure for photos the reason why Kate Middleton leaves the hospital so quickly after birth? She has been famously fast-footed post-delivery with her last two little ones and will likely be the same way with her third.
Kensington Palace announced via Twitter on Tuesday morning that Middleton had delivered a healthy baby boy at 11:01 a.m. GMT and both mother and baby were recovering well. The baby weighed 8 pounds, 7 ounces at birth and dad, Prince William, was in the delivery room when the baby was born. The Duchess of Cambridge reportedly was in the early stages of labor around 6:00 a.m. GMT and then headed to the hospital, according to The Sun. Just four hours later, the new prince made his arrival.
Fans and onlookers have been gathered outside of the Lindo Wing of St. Mary's Hospital for hours, anxiously awaiting the new baby's first public appearance. Middleton has appeared outside of the doors of the Lindo Wing for photos following the births of her other two children, Prince George and Princess Charlotte, so it is expected that she will do the same with the new baby. But just how long of a break did she take between births and photo shoots? The answers might surprise you.
When Middleton had her first child, Prince George, in July of 2013, she spent a little over a day in the hospital before coming out to greet the public, according to The Daily Express. With Princess Charlotte in May of 2015, the turnaround time was even shorter: just 10 hours at the hospital, start to finish. As she entered the hospital early Monday morning and delivered her son hours later, the media has speculated that Middleton and the new baby would emerge for photos by the late afternoon.
Anticipation for those first baby photos reached a fever pitch when Middleton's hair dresser — who was on hand to blow dry the duchess' hair after she gave birth to Prince George and Princess Charlotte — was seen leaving St. Mary's Hospital, according to The Sun. Her presence at the hospital has some believing that Middleton will come out of the Lindo Wing for photos soon thereafter.
Despite her quick deliveries, one has to wonder why Middleton is so quick to leave the hospital after having her children. Baby Center reported that the norm for an uncomplicated vaginal birth is 24 to 48 hours in the hospital to rest and recover, and two to three days for an uncomplicated Caesarean section. Women do have the option for early discharge though, and it is generally arranged prior to labor. Moms who choose to be discharged early are expected to bring their baby in to a doctor within two to three days of their departure, according to Baby Center. Moms, too, should be checked but can wait a week or so if they are recovering well without concern.
While no specifics have been shared, the Kensington Palace announcement tweet shared that both Middleton and her baby are doing well, meaning that she may opt for another early discharge. Before sharing their new addition with the world in a photo shoot outside of the hospital, Middleton and Prince William tend to hold off for a few hours to enjoy their family in private. Perhaps Middleton's early departures are a means of resuming that private family time at home, as soon as possible. Or maybe she really is eager for her son to meet his adoring fans. Either way, it's good to know that Middleton and her new baby are flourishing.
Check out Romper's new video series, Bearing The Motherload, where disagreeing parents from different sides of an issue sit down with a mediator and talk about how to support (and not judge) each other's parenting perspectives. New episodes air Mondays on Facebook.