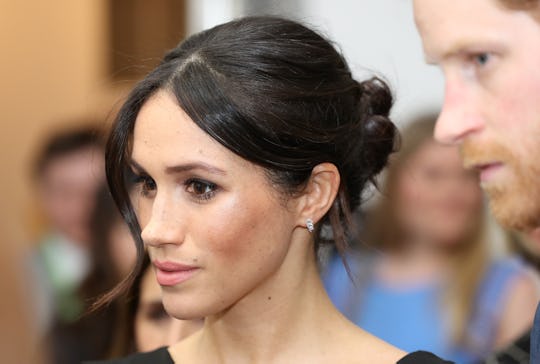 Chris Jackson/Getty Images Entertainment/Getty Images
Here's Why Meghan Markle Has Ditched The Name Rachel As A Public Monicker
During the royal wedding, you might hear the Archbishop of Canterbury, who is officiating the ceremony, call the bride "Rachel." Don't worry, he's not trying to make a cheesy reference to Friends (although that would be kind of hilarious given that it's a British wedding) or her character's name on Suits. Rachel is actually her real name, believe it or not. So why doesn't Meghan Markle go by Rachel then?
According to Entertainment Tonight, when Queen Elizabeth issued her formal consent to the marriage, she dropped both Prince Harry's and Markle's full names. It read, "My Lords, I declare My Consent to a Contract of Matrimony between My Most Dearly Beloved Grandson Prince Henry Charles Albert David of Wales and Rachel Meghan Markle, which Consent I am causing to be signified under the Great Seal and to be entered in the Books of the Privy Council."
It took people by surprise since most everyone knows her as Meghan. So what does she have against "Rachel," huh? Both names are perfectly nice. According to interviews her step-siblings have given over the past few months complaining about not being invited to the wedding, it sounds like her family member's have always called her Meg or Meghan. There's a video on the internet of 11-year-old Meghan Markle on Nick News for getting a dish soap company to change their commercial. But since the original clips of 11-year-old Markle are spliced into an Inside Edition segment, it's hard to tell if she was using Meghan or Rachel back then.
Markle doesn't seem to have ever addressed why she doesn't use her given first name in the media, but it's not totally uncommon for an actress in Hollywood.
Since we don't have a confirmed evidence, despite our very best efforts, as to why she doesn't use Rachel, it's probably safe to assume that it was a career move. When people start out in the acting world, it's really common for them to think about the name they want to use on stage.
Like, Brad Pitt's real first name is William, Portia De Rossi was born Amanda Lee Rogers, and Reese Witherspoon's real name is Laura Jeanne. And that's just the useless celeb trivia I know offhand. The list could likely go on and on. Really, you should try Googling your favorite actor or actress and enter "real name" before you hit search. You'll probably be surprised.
It's almost like everyone who heads to Hollywood ditches a last name that might be catchier than their own (ahem, Tom Cruise) or opts for a "cooler" sounding middle name to use as their first. If you think about it, the alliteration in Meghan Markle's name is pretty catchy and headline worthy. So whether it was something she decided as a kid or later in life when she knew she wanted to get into acting, it totally makes sense why she'd use Meghan.
During the wedding, she will be referred to as Rachel, and also in official paperwork and announcements going forward, according to Elle. According to the outlet, she won't get to have a say in it either, as per royal protocol. That means that Meghan will be the nickname that we all call her, much like we all call Prince Harry, Harry, as opposed to Prince Henry, which is his real name.
There are other royal experts who think that she might have chosen to be renamed "Meghan Rachel" at her recent baptism into the Church of England, and snuck around the royal protocol. But that doesn't seem likely, since the Queen sent out her formal consent after that all went down, and still used Rachel as her name.
So, we might not know exactly why Meghan doesn't go by Rachel, but it definitely doesn't matter. The wedding will be beautiful, nickname or not.