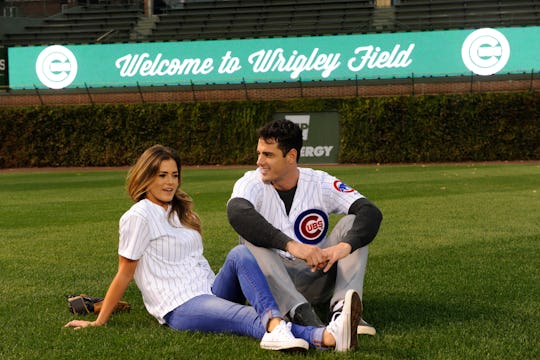 Jean Whiteside/Disney ABC Television Group/Getty Images
Why Don't JoJo's Brothers Like Ben? Their Interaction On 'The Bachelor' Promo Was Tense
Given the setup of The Bachelor, it's hard to imagine someone not liking Ben Higgins. Fans love him, the women on the show are fighting tooth and nail for him, so why don't JoJo's brothers like Ben? JoJo Fletcher and Ben Higgins have been hitting it off since day one, but previews for the next episode showed that JoJo's family is not on board with the whole thing.
Unlike other pairings, JoJo and Ben seem comfortable around each other, even comfortable being goofy around each other, which is always a good sign. As the season has progressed, they've only grown closer, so it's no surprise that JoJo made it to the hometown dates phase of the show. On a preview for next week's episode, Higgins visits JoJo's hometown, and, of course, drama ensues. JoJo's brothers don't take too kindly to Higgins. According to the episode promo, this is what went down: "My brother and I are protective; she deserves better," said one brother. "Ben, you brainwashed these girls way too much. You need to take a step back," said another brother. Then, there's Higgins, in a car, frustrated, saying, "I can't do this right now."
It appears that Higgins is overwhelmed with JoJo's family, their reaction to him, and what that could mean for their blossoming relationship and its future. JoJo fans are surely hoping that her dramatic brothers do not ruin her chances with Higgins, because as it stands, she's got a great shot at that rose. It appears he took whatever they said personally, unfortunately.
So, what was their problem? Why didn't they like Higgins? Though fans will have to wait for all the answers till next week's episodes, JoJo's brothers sound like they are simply protective of their beloved sister. Like any brothers, they are suspicious of this new guy vying for their sister's love. They want the best for their sister, and, frankly, that's a tall order. Sometimes no one feels good enough for the ones you love. Even someone as put-together, stable, and trustworthy as Higgins is not good enough for their JoJo.
If anyone understands Higgins' situation, it should be JoJo's brother, also named Ben. Ben Patton was a bachelor himself on the show Ready For Love on NBC back in 2013. At the end of the show, he got engaged to beauty queen Angela Zatopek, but it didn't last long. Maybe that experience with reality T.V. relationships is coloring his opinion of Higgins.
As for the "brainwashing" bit, that remains a mystery. They may be referring to how he's gotten all of these women to love him and fight for him. But, those brothers have to admit, that is part of the show. Of course, it could be something we don't know about. The next episode will surely provide context for why JoJo's brothers had the reaction they did.