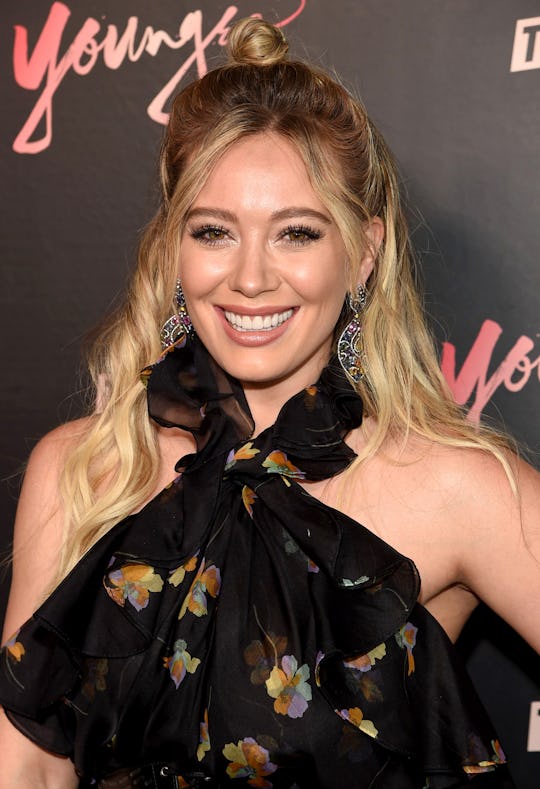 Jamie McCarthy/Getty Images Entertainment/Getty Images
All Parents Will Understand Why Hilary Duff Won't Reveal Her Baby's Name Until After She's Born
Some things you learn by doing, they can't be explained, and the process of having a child is one of those. Like most moms expecting a second child, Hilary Duff is a little wiser this time around, and now the star knows that some things are better kept to yourself — at least for a little while. On her Instagram Story on Wednesday night, Duff revealed she knows what she's naming her daughter, but she also let it be known that she won't share her choice until her baby's actually born.
But why? Because she doesn't need all the inevitable feedback from the peanut gallery — that's the in-laws, aunties, grandmas, friends, fans and, yes, sometimes that cashier at the grocery store who, when told the baby name you are thinking of after they have asked you, have no problem sharing their exact opinion about your choice. In fact, they themselves usually have an even "better" idea to offer as far as a moniker for your unborn child. So, yeah, I get it.
"We have picked the baby's name, which is super cool and relieves a lot of stress, because we agreed on it right away," Duff shared on her Instagram Story answering fan's question about her baby's name. "We're not ready to share and we won't until the baby is born because we don't want to hear people's opinions on it."
The Younger star, who is expecting with music producer Matthew Koma, further explained her reasoning, saying that "it's a very personal choice."
Honestly, I wish I had known her advice during my first pregnancy. It had been super hard to get pregnant, and so I wanted something meaningful, choosing the name "Faith." I was really excited about the name... until someone at the doctor's office opined that it was "too much of a responsibility" for a child to have a "message" name, and I was better off with something "simpler." After that, I was so worried about the name, but stuck to my guns in the end — and I'm so glad I did!
Of course, there are some opinions you should to try to be open to — Duff's son, 6-year-old Luca, the soon-to-be big bro, is one of them. According to Us Weekly, Duff shared on the Late Late Show With James Corden that Luca thinks he has the perfect baby name solution.
"Luca thinks 'Cofant Croissant' is like, the coolest name... There would be no confusion," she told James Corden, according to Us Weekly. "And when I just refer to it as 'Cofant,' and I'm like, 'That would be so cool, no one at school's going to be named Cofant,' He's like 'Croissant. Cofant Croissant.' It goes together. There's no separating the two."
And when it came to a sex reveal earlier this summer, Duff has been open about wanting a girl — especially in light of the fact that her sister, actress Haylie Duff, just welcomed her second daughter, Lulu Gray. "... For the past six years I've bought monsters and trucks and planes and Luca's into all the boy stuff, so everything's blue and green and I was just ready for pink and purple stuff," Duff told Ryan Seacrest on his radio show, as reported by People.
With her wish coming true, her fans (and myself) clearly couldn't be more excited for Duff. She's always been wise beyond her years about the fact that people have so many diverging opinions, and you've got to turn to your inner voice and only do what works for your family. And when she responds to critics — and she's had many — Duff manages to post her views without ever seeming too angry or bothered by different perspectives.
In short, Duff is one tough mama and her honesty is just one of the many reasons fans love her.