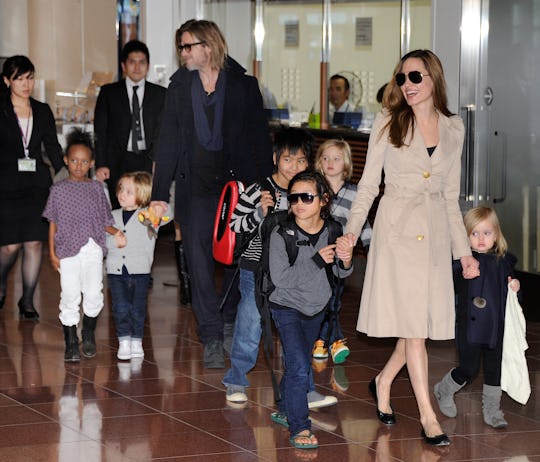 TORU YAMANAKA/AFP/Getty Images
Why Is Angelina Jolie Requesting Sole Custody? She Claims It's About Parenting Differences
Angelina Jolie has filed for divorce from her husband, Brad Pitt, according to TMZ, and she is reportedly requesting full physical custody of their six children. The obvious question that follows from that news is then Why is Angelina Jolie requesting sole custody? The TMZ report states that Jolie, 41, filed Monday on the grounds of irreconcilable differences and reports that she is seeking sole physical custody, allegedly motivated by being uncomfortable with Pitt's parenting style. She would allow Pitt visitation rights.
Romper reached out to both Jolie's and Pitt's representatives for comment but has not heard back. In a statement to People Tuesday, Pitt said,
I am very saddened by this, but what matters most now is the well being of our kids. I kindly ask the press to give them the space they deserve during this challenging time.
Jolie and Pitt, who is 52, have been married since 2014 and together since 2004. T Jolie adopted their oldest child, Maddox, from Cambodia in 2002, according to People, and their second child, Zahara, from Ethiopia in 2005, according to US Weekly. Pitt adopted each of them in 2006, Hollywood Life reported. They had Shiloh, their first biological child, together in in 2006. Next came Pax, whom Jolie adopted in 2007 and Pitt in 2008. Then they had their twins, Vivienne and Knox, in 2008.
There's been no confirmation from either Jolie or Pitt's rep at this point that parenting differences were the cause of their split, and it's of course unknown whether Jolie will be awarded full physical custody. No matter the details or the outcome, this has to be an incredibly hard time for the whole family, especially the kids.