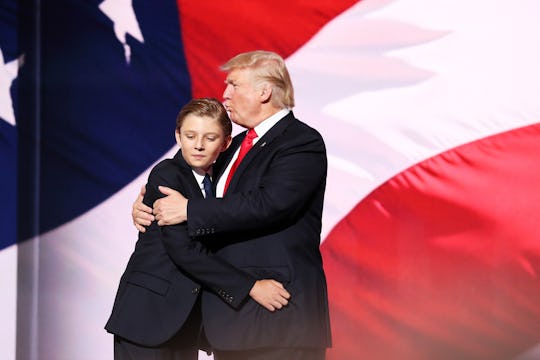 John Moore/Getty Images News/Getty Images
Why Is Barron Trump Named Barron? His Dad's Kind Of Obsessed With The Name
Republican presidential nominee Donald Trump trotted out his entire family for last week's Republican National convention, with his four older children making speeches on their father's behalf. Of course, his youngest, at 10 years old, didn't speak, but he did appear. But there are questions about the youngest Trump, first and foremost, why is Barron Trump named Barron? To be honest, I'm surprised all five of Trump's kids aren't named Barron, because he's been obsessed with the name for decades.
According to a 2015 People interview, Donald and Barron Trump don't spend much time together, but when they do get together, the pair enjoy going out to dinner or playing golf. But Donald did at least do Barron the courtesy of bestowing his favorite name upon him. According to the Washington Post, Donald has used the alias "John Barron" when speaking to the press as far back as 1980. And in 2004, after the success of The Apprentice reality show, there was a brief attempt to create a scripted drama based on Donald's life. When screenwriter Gay Walch delivered the pilot to her subject, he had only one note: change the protagonist's last name to Barron. A year later, Donald married Melania Knauss, and a year after that, Barron Trump was born.
Barron has had an unusual upbringing, to say the least. In a 2013 ABC News interview, Melania described him as "not a sweatpants child," and said that she covers him in her own brand of caviar-infused lotion every night. In a more in-depth Parenting profile, she described her "very strong-minded" son as a "little Donald," who seemingly has the run of the house: "If he says no, we listen to him. It's no and we don't try to change it." She also revealed that Barron has his own floor at home – not just a room; an entire floor – and he's allowed to draw on his walls, because "if you say to a child no, no, no, where does the creativity go?"
Barron is reportedly fond of golf and building things, though those might just be ways that he tries to relate to his "very busy" father who Melania said never changed a diaper or put his son to bed. This is in keeping with a statement Donald made to Howard Stern the year that Barron was conceived: "I like kids. I mean, I won't do anything to take care of them. I'll supply funds and she'll take care of the kids." Not only has he kept that promise, he gave his youngest son the bonus gift of his favorite name in the whole wide world. Pretty generous.