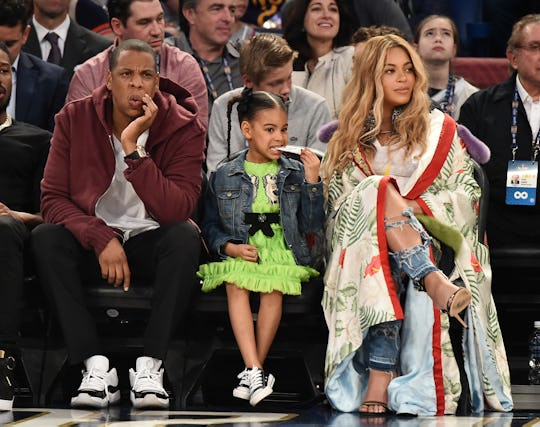 Theo Wargo/Getty Images Entertainment/Getty Images
Beyoncé Just Dropped Some Bad Concert News
Here's the thing guys: We can't always have our cake and eat it too. Sure, you've been dreaming of seeing Beyoncé slay at Coachella. But remember how happy you were when you found out that she and Jay Z were expecting twins? Remember that good feeling? OK, now hold on to that while I lay it on you: Beyoncé is dropping out of the Coachella lineup. Why, you ask? Because she's pregnant, and perhaps her doctor felt it might not be the safest environment for a woman expecting twins.
To be fair, I can't imagine everyone is hugely surprised here. Bey is known for her artistic, athletic performances that aren't exactly conducive to optimal conditions for a pregnant woman. Particularly a woman expecting twins. So when Beyoncé's Parkwood Entertainment released a joint statement with Coachella producer Goldenvoice that she would no longer be headlining the highly anticipated festival, it made a lot of sense:
Following the advice of her doctors to keep a less rigorous schedule in the coming months, Beyoncé has made the decision to forgo performing at the 2017 Coachella Valley Music & Arts Festival. However, Goldenvoice and Parkwood are pleased to confirm that she will be a headliner at the 2018 festival. Thank you for your understanding.
But that doesn't mean fans who already purchased their Coachella tickets in advance were too happy.
Fans who weren't able to get tickets to the Indio, California two-weekend event in April (Apr. 14-16, Apr. 21-23) took to social media as well to shamelessly breathe a sigh of relief that they had not, in fact, missed out on an epic Bey performance.
While it is naturally disappointing to hear that Queen Bey will not be able to attend Coachella and bless her Bey Hive, she needs her rest. And let's remember, guys; she was super excited about headlining at Coachella for the first time ever as well (she did dance back-up for sister Solange Knowles when she performed at Coachella in 2014).
So let's focus on the positives; Beyoncé is scheduled to headline Coachella in 2018, and there's plenty of time to get your tickets. There are still some amazing performers lined up to perform at Coachella in 2017, like fellow headliners Radiohead and Kendrick Lamar (no word yet on who will replace Bey, although my money is on Gaga). And think about the babies, guys... the world will soon be blessed with more Bey-bies (sorry, I couldn't help it).
All is still right with the world. Sort of. I guess.