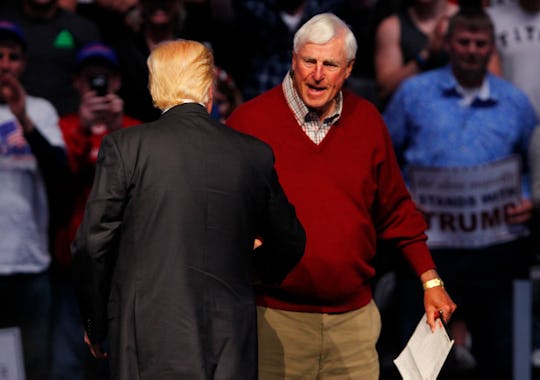 John Sommers II/Getty Images News/Getty Images
Why Is Bob Knight Famous? The Legendary Coach & RNC Speaker Helped Trump Win Indiana
The Republican National Convention kicked off Monday afternoon, beginning a four-day long celebration that will likely ultimately make Donald Trump the official nomination for the Republican party. Just as bizarre as this election season has been thus far, this week's lineup of speakers is also a bit out there, including soap opera actors and a professional golfer. One of those names that will speak on behalf of the presumptive Republican nominee is legendary basketball coach Bob Knight. Before the famed Indiana University coach takes the stage, those tuning in may want to learn a bit more about these speakers and why they're speaking. So, why is Bob Knight famous and why did Trump ask him to speak at the convention?
Trump announced on July 6 that "Bobby" Knight would speak, crediting the coach with helping him win Indiana during the Republican primaries. Back in April, Knight endorsed the businessman at a Trump rally in Indiana, calling him the "most prepared man in history to step in as the President of the United States."
"I just told him I thought that we needed him," Knight told Time in an April interview on his decision to endorse Trump. "That right now, in this moment in time, he was the man who should be in charge. He should be the guy that can get us back to where we want to be."
Knight's endorsement was influential for Indiana voters, which can probably be explained by his impressive coaching career in the states and the fact that he is a living Indiana legend.
Throughout the 75-year-old's career, he's has been hailed as one of the most legendary college basketball coaches of all time — winning three national championships with Indiana University (where he spent 29 years) in addition to making five NCAA Final Four appearances. Adding to his legacy, he's also one of only three men to win the college basketball national championship as a player and as a coach.
Many Hoosiers still revere Knight quite highly, despite his well-known short temper — he's thrown a chair and once reportedly choked a player. He's also made some rather controversial comments throughout his career, including one abhorrent remark he made to NBC News correspondent Connie Chung in 1988 on how he handled stress. According to The New York Times, he said, ''I think that if rape is inevitable, relax and enjoy it.''
He later attempted to clarify his statement by saying, "I'm not talking about that, about the act of rape. Don't misinterpret me there. But what I'm talking about is, something happens to you, so you have to handle it — now.''
Just like Knight, Trump has also made his fair share of offensive comments. In fact, both men have quite a lot in common — loud and brash can easily be used to describe both of their personalities, they've shared the controversial spotlight more than once, and they are both quite successful in their respective fields.
Given the legendary coach's history with the media combined with Trump's reputation, this week's convention and Knight's speech will surely make for an interesting event.