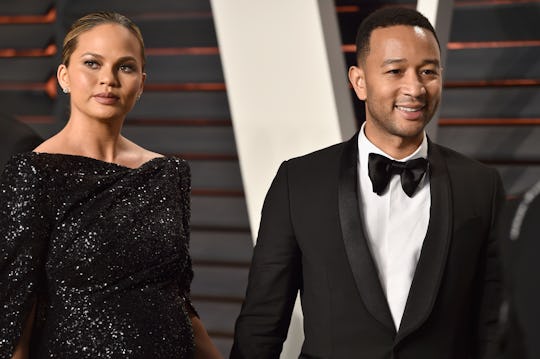 Pascal Le Segretain/Getty Images Entertainment/Getty Images
Here's Why Chrissy Teigen's Son's Last Name Is Stephens
Chrissy Teigen and John Legend announced the birth of their son this week, along with the most adorable picture of the little guy. On Sunday, Teigen captioned his first public baby pic with his name: Miles Theodore Stephens. It's a very dignified man for such a tiny person, but it had me wondering why Chrissy Teigen's son's last name was Stephens and not either of his parents' last names. Stephens is also Luna's last name, so what gives?
It's actually not that complicated. Legend is actually John's stage name and Stephens is his actual last name. John Stephens is a nice name and all, but it doesn't exactly have the same ring to it as "John Legend," so I get it. What is interesting is that both of her kids have their dad's last name even though she never officially took John's last name when they get married. But names are a really personal choice, so she likely has her reasons.
Earlier this spring, Teigen had the most hilarious response to an internet troll who just couldn't wrap his head the fact that some women don't take their husband's last name. In response, Teigen joked that her husband didn't even take his own last name, so why should she have? Touché.
When the kids get older, they can always swap out their last names if they don't approve of Stephens, too. In the meantime, please allow me to gush some more about little Miles Stephens.
Teigen, who is also mom to 2-year-old Luna, kept it real with this second pregnancy. True to form, she joked on social media that this time around was a little harder than the first time. In part because she did IVF and told a fan that she knew "like 11 days" into her pregnancy. When you find out that you're pregnant that early, it makes sense that nine months felt like an eternity. She told New York's The Cut in an interview earlier this year:
You know, we did IVF and it's kind of crazy because even though you do all this planning and preparation, you take progesterone and inject your body and do all this stuff — and when I finally did get pregnant I was like, 'Oh crap, are we ready?'
The cookbook author added, ""I think it kind of doesn't matter whether you do all that preparation or whether it's a surprise. You still wonder if you're ready. But then you hear from enough people that you're never really ready, and you just go for it."
She added in the same interview that her family really runs on "controlled chaos," so having a second baby to care for shouldn't be too hard to balance. Or so she thinks, at least. Teigen explained that she doesn't feel like an "expert mom" by any means, so things aren't always perfect in her house. "I hit up other people for advice all the time, especially people with two kids," she added.
Teigen explained that that she was a little nervous that the arrival of a second baby would hurt Luna, too. She said:
I get really worried I'm not going to pay enough attention to Luna, but they've told me you actually start overcompensating and paying too much attention to your first. So there are a lot of these little things I always wonder about.
Of course, a mom's job is essentially to worry about everything, even though it all works out in the end. Now that baby Miles is here, we'll all likely hear a lot more about how Luna takes to the little guy and what kind of controlled chaos looks like going forward. And Luna? I'm sure once she got a good look at her little brother she was sold on the whole sibling idea. And now at least she has someone to talk to about whether she should change her name or not when she grows up.