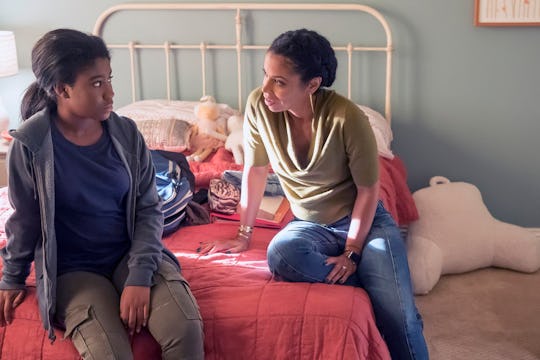 Ron Batzdorff/NBC
Deja's Mom Is Still A Bit Of A Mystery On 'This Is Us'
There's no denying that Deja from This Is Us is extremely cautious of Randall and his family, and sometimes that caution turns into aggression, which is to be expected from a foster child who has admitted to experiencing past abuse. But despite thinking that her mom will be out of jail any day to welcome her home, it's not going to be that easy this time around. So, why is Deja's mom in jail on This Is Us? There's a lot to uncover about not only Deja's past, but also her maternal family as well.
Though Beth and Randall finally came to an agreement about adopting a child they could help out of a tough home life, they decided to take in Deja as a foster child first. As of now, I don't know if it's going to result in an adoption and raising a "big three" of their own, but contrary to what Deja seems to think about her mom getting out of jail quickly like with her past offenses, Randall's look into Deja's case file told him that, for whatever reason Deja's mom is in jail on This Is Us, it's not going to result in a quick release.
Although Deja hasn't yet said herself what crime her mom committed, there are a couple of smaller scale things that could have resulted in more jail time. We know that Deja is clearly from a home less fortunate than Randall and Beth's and that she's already spent time in multiple foster homes, so there's a chance that her mom went to jail for theft of some kind. For smaller bouts of petty theft, you'd expect some leniency, but if this time around it was worse and not her first offense, then Deja's mom could very well be looking at serious jail time for it.
Then again, the crime could also have something to do with drugs. There's nothing concrete to go on with this possibility just yet, but if Deja's mom has a drug problem around the time when Kevin is dealing with addiction of his own, it would bring the stories together and also potentially help Deja deal with facing the reality of her mother's addiction, if that is the case. Kevin is Deja's personal hero at the moment, and if she sees him deal with addiction, it may help her realize that her mom's crimes are more serious than she may have previously thought.
This Is Us creator Dan Fogelman spoke to Entertainment Weekly about Deja's future with Randall and the rest of the Pearson family, hinting that things will probably get worse before they get better, so there will likely be a wait before Deja comes to terms with whatever her mom went to jail for. "This is not going to be an easy journey but one of fits and starts," Fogelman said, of Deja's progress. "And that there's not always going to be happy endings in every episode for this kid. It's a slow march."
What we do know about Deja's mom on This Is Us, though, is that despite whatever the home life was like for Deja, she was close to her mother — close enough to make her devastated at the thought of not reuniting with her mother for longer than expected.
Obviously there's a long road ahead for Deja and there's still a lot to learn about where she came from and how it shaped who she is now. But I'm sure as the season progresses, more details about her past will get revealed.
Watch Romper's new video series, Romper's Doula Diaries:
Check out the entire Romper's Doula Diaries series and other videos on Facebook and the Bustle app across Apple TV, Roku, and Amazon Fire TV.