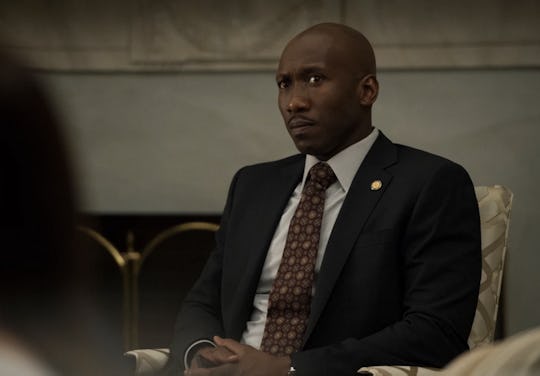 Netflix
Why Is Gas So Expensive On 'House of Cards' Season 4? The Oil Crisis Is Affecting Washington
Season 4 of House of Cards has proved to be quite different for Remy Danton. Not only is he out of the politics game, kind of, but his relationship with Jackie has never been more complicated. So, the guy needs a win, which is why he goes to Florida to visit his family. Looking fine and tailored with the top down in his shiny convertible, he makes a quick stop at the gas station. And he can't get a lick of gas. The station shuts down as he's sitting there as the price rolls over to $6.00 a gallon. So why exactly is gas on House of Cards Season 4 so expensive? (Spoilers ahead for Season 4, Episode 5.)
It seems to be a prescient theme during Season 4. Long line-ups at the gas stations where people have to wait to buy gas they probably can't even afford. They look angry, exhausted, and fed up. Not just by the gas prices but also by the availability. But, it turns out it's not simply a question of affordability; look at the mom who has just pumped gas into her giant SUV. She wouldn't let Remy syphon off two gallons even though he offered her $80 for it. So why is this not so political question so important to the fourth season of the show?
It all goes back to President Petrov. Russia is holding precious oil hostage while it wages its cold war against Frank Underwood. Petrov wants dissident Igor Milkin released from China and sent back to Russia before giving any help to the U.S., a power move, for sure, on Petrov's part.
Because things are so dire, a personality from the past is brought back into play. Leann enlists Remy to enlist Raymond Tusk, who, naturally, is hunting when appraoched by Remy. Of all people, Raymond Tusk is the guy to fix the oil crisis for the United States because he's got deep pockets and the U.S. is in desperate need to gain power.
It's a very real life situation filtered through the world of fictionalized D.C. If anything, it makes me want to go fill my tank with gas. You know, just in case.