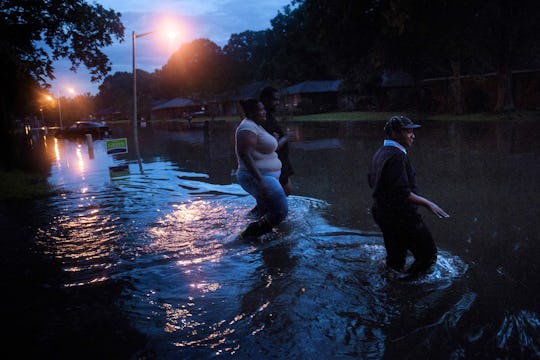 BRENDAN SMIALOWSKI/AFP/Getty Images
Why Is It Flooding So Much In Louisiana? Stagnant Rain & Overflowing Complicated Things
An unprecedented few days of flooding left Baton Rouge and its surrounding counties soaked and hurting. At least 11 people have died—a number that's expected to rise as rescue crews reenter affected areas in attempts to put towns and neighborhoods back together. In many cases, the water will take days to recede. Plenty are still asking: Why is it flooding so much in Louisiana? Record levels of rain fall, along with the storm's slow, lingering pace are to blame, as well as the overflow of local water systems.
The East Baton Rouge, Livingston, and St. Helena parishes all experienced an estimated two feet of rain in just two days. Nearby counties suffered similarly high amounts. Unlike a tropical storm, which can travel quickly and produce high-level winds, these particular storms stayed virtually stagnant while other, smaller storms formed.
Frank Rivette, the warning coordination meteorologist with the Slidell office of the National Weather Service office, speculates that "intense rainfall rates were probably well in excess of three inches an hour for some spots Thursday night and Friday morning, and that overwhelmed local drainage, causing flash flooding." This flash flooding then overflowed into nearby waterways, namely local rivers, lakes, and tributaries, causing flood levels to rise even higher.
Communities have suffered immense damage to their homes. In the Livingston Parish, 75 percent of homes have been affected by the floods. Local Sheriff Jason Ard said that, even when considering previous, named storms such as the incredibly devastating Katrina, "this is — by far — the worst [he's] seen." It's estimated that a total of 40,000 homes have been impacted by the storms.
The effects of this storm have not yet passed. Meredith Conger, planning and intelligence officer at Ascension Parish Homeland Security, said that she "cannot stress to our residents enough the magnitude of this situation," noting that "this type of historic flooding has never been seen before and we are not out of danger yet." Officials on both federal and local levels stress that flooded areas are not yet safe.
Gov. John Bel Edwards stated Tuesday night that the affected parishes were currently in "an emergency, search-and-rescue response mode," saying:
Saving life is the most important priority that we have. We're going to dedicate every available response to that effort until it's no longer required.
Though communities were not able to fully prepare for the storm, efforts are underway to provide much-needed aid. The National Guard is helping families find lost loved ones, the American Red Cross is providing "shelter, food, and comfort," and local organizations are helping to assist victims of the Louisiana floods. Louisianans are working together through this impossibly painful time.