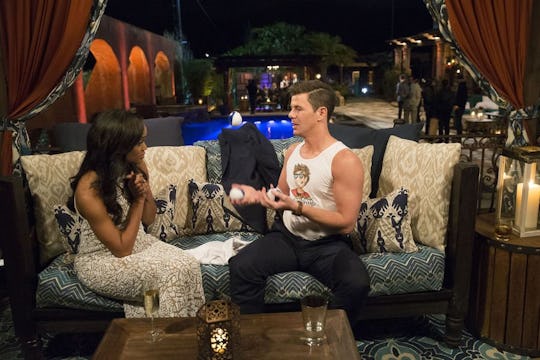 Paul Hebert/ABC
Lucas Must Still Be On 'The Bachelorette' For A Reason
Every season of The Bachelor/The Bachelorette has one contestant who the season premiere sets up as being unbearable, only for them to snag a rose in a seemingly agonized-over decision at the end of the first night. Last season, it was Corinne. For JoJo, it was Chad. But on this season of The Bachelorette, Rachel Lindsay has Lucas Yancey, better known to viewers as "whaboom guy." He has the worst catchphrase in recent Bachelor franchise memory and a delivery that's truly excruciating to witness, which may have fans wondering: why is Lucas on The Bachelorette? How did he get past night one?
Although Rachel is an uber-level-headed defense lawyer, painted by Chris Harrison as "a skeptic" of the show's process from the beginning and praised by Roxane Gay for being "far less scripted than most of the people who have appeared on The Bachelor/ette," viewers believe she caved to producer interference. Twitter (and the guys in the house, and the guys who got sent home) lit up when she gave Lucas her last rose of the night, immediately dismissing the decision as a play made by producers to stretch out drama on the show. How could Rachel, so seemingly serious and real, lay down for that?
While it's entirely possible that producers talked her into keeping the kooky, annoying guy a bit longer just for laughs, Bachelor alum Caila Quinn actually offered up a compelling alternate theory in an interview with Us Weekly. Said Caila:
We don't know what they edit [on] night one. For example, there was a girl my season who they showed only speaking Russian on the first episode. But she spoke English to [Ben] the whole time. But [viewers] only saw her speak Russian, so everyone's like, 'Oh my gosh, she doesn't speak English.' So for this, they're just showing his quirky side and maybe there was something deeper that happened.
Viewers did see one tiny moment of seeming earnestness from Lucas when Blake E. grilled him on whether he was there for "the right reasons." Lucas argued, pretty sincerely, that he believed there was a little whaboom in all of us, pointing (maybe) to a deeper philosophy of attacking life with energy and gusto.
That's a pretty generous read of the interaction, of course, but he did seem to charm Rachel with his tank top and juggling skills. Maybe he's actually a Bachelorette savant who hams it up for the cameras but has no trouble being vulnerable and sincere in front of his lady. From Rachel's perspective, it's probably really refreshing to experience that early on, when everyone is typically struggling to be vulnerable.
Whatever their deeper connection may be, it looks like Lucas is sticking around for the time being, so we'll just have to start muting our TVs whenever he pulls out the bullhorn. But such is life as a Bachelorette fan.