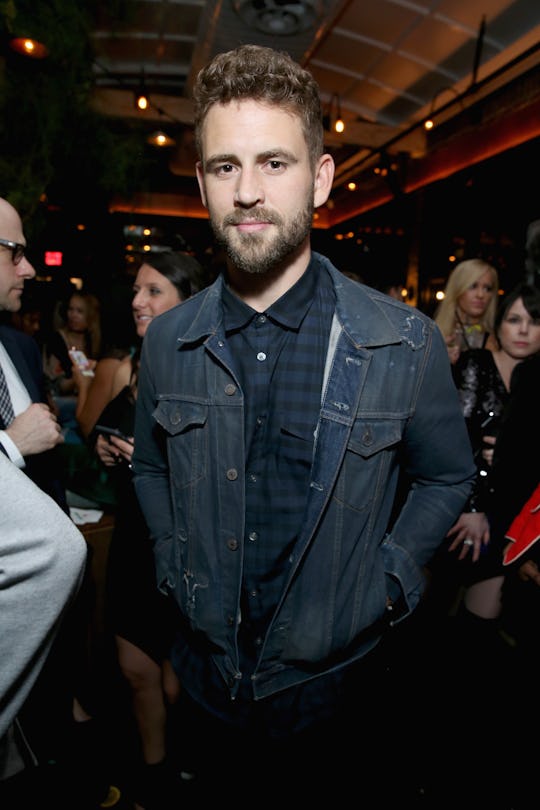 Phillip Faraone/Getty Images Entertainment/Getty Images
Nick Viall Is Heading To 'DWTS,' But Why?
Nick Viall's season of The Bachelor finally reached its dramatic conclusion on March 13, with Nick picking Vanessa Grimaldi over Raven Gates. Though many (particularly, Raven fans) questioned the choice, given that Nick and Canadian resident Vanessa had been bickering about their future living situation for weeks on-screen already. However, the newly-engaged pair hasn't let that cramp their style. But with the recent announcement that Nick is competing on Season 24 of Dancing With the Stars, many are questioning the state of Nick and Vanessa's relationship. So, why is Nick doing Dancing With the Stars so soon after The Bachelor?
Fans are leery about Nick and Vanessa's relationship lasting for a variety of reasons, not least of which is the fact that they seem to have spent no time together before Nick agreed to go on DWTS. While he isn't the first Bachelor Nation alum to make the jump to the ABC dancing competition show, the prep for it is notoriously grueling and intense. A huge number of hours are spent training and rehearsing the dances before they're performed on-air. With a March 20 premiere date, there's only one week between the end of The Bachelor (and Nick and Vanessa being able to go public with their relationship) and the beginning of DWTS.
Based on what Nick has said about the show in the past, it doesn't seem like appearing on DWTS was his lifelong dream or anything — though he did think it sounded tempting. "I mean, I haven't given it much thought. I think it would be fun, you know?" Nick told ET Online back in January when asked about the rumors that he'd be appearing on the dancing show. "Right now I am focused on being The Bachelor. [But] if they asked — I mean, I don't think I would say my first thought wouldn't be no, but I think anyone would feel lucky to even be considered."
It was a classic coy Nick non-answer, which makes sense because, in all likelihood, negotiations for his participation may have already been in the works at that point. He's since been paired with dancing pro Peta Murgatroyd, who last appeared on the show in Season 22, when she and partner Nyle DiMarco took home the mirror ball.
For what it's worth, Vanessa is very supportive of her fiancé's new gig. In an appearance on Jimmy Kimmel Live! the host quizzed Nick's winner for her thoughts on going from watching other women make out with her boyfriend-turned-fiancé on The Bachelor to watching him dance with a gorgeous professional dancer on Dancing With the Stars. "I was really excited about the whole DWTS experience. He ran it by me, we spoke about it.," Vanessa told Kimmel. "Peta's a great dancer. I'm really happy that he got to be paired up with Peta so hopefully [he'll] make it to the end."
Last week, once the news about their engagement was safely out of the bag thanks to the airing of The Bachelor's final episode of the season, Vanessa had the opportunity to finally meet Nick's dancing partner. The two posed for cute photos with Murgatroyd and her baby boy Shai (with fiancé Maks Chmerkovskiy).
Both Nick and Vanessa posted the silly photos, joking that their team name was "#TeamBabyGotBach." Perfect.
But his Dancing With the Stars appearance isn't the only thing up on Nick's agenda. He recently revealed to ET Online that he is also starting a men's grooming line called "The Polished Gent." Clearly, Nick has a lot going on in his life post-Bachelor, and fans definitely haven't seen the last of him.