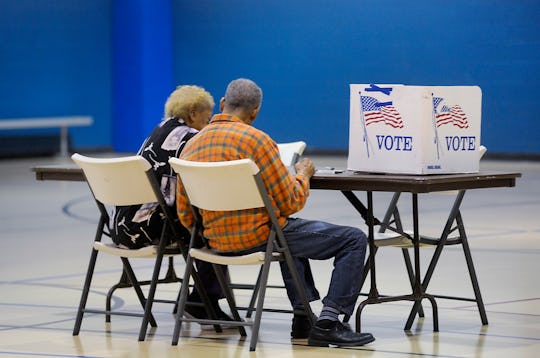 Sara D. Davis/Getty Images News/Getty Images
Why Is North Carolina Extending Its Voting Hours?
North Carolina has been a hot topic this election, not only because it's a battleground state, but because of the state's later voting hours. This has lead many to wonder why is North Carolina extending its voting hours?
CNN noted earlier today that a nonprofit group sued North Carolina's Board of Elections, asking for extended poll hours in a very Democratic county, Durham county. Apparently, there was a lot of technical issues earlier today, including voters not being able to check in to vote.
It may not sound like a huge deal, but FOX News noted that the 2008 election came down to two voters in each precinct when tallying North Carolina's results. The race was incredibly tight and as a battleground state, it seems North Carolina is going to play the same role in this election. With 15 electoral votes, it's crucial that every vote counts in the state.
The state has extended voting hours for certain precincts in Durham county until 8:30 p.m. ET tonight and one precinct in Columbus county will stay open an extra 30 minutes, FOX News reported. Jenna Lee from FOX News noted that up until 8:30 tonight, you'll be able to vote in certain precincts in Durham county.
North Carolina has been a battleground state before, but with the controversial transgender bathroom law earlier this year, the state has found its way into the media and right in the middle of the election. According to CNN, the House Bill 2 banned people from using a bathroom unless it corresponded to their biological sex, no matter what they identify with. Soon after the law, Democratic presidential candidate Hillary Clinton made it known that she disagreed with the law and that she wasn't going to stand for this type of discrimination anywhere in the country.
The whole country will be eager to see what happens with North Carolina. According to FOX News, the race has been too close to call in the state with both Republican presidential candidate Donald Trump and Clinton doing last-minute campaigning to try to swing voters leading up to Election Day.
Based off of early voting numbers, The Huffington Post predicted that North Carolina would be a lean Trump state. But with the extended voting hours, everyone will have to wait to see what happens and who will gain those crucial electoral votes. FOX News has already reported that while North Carolina may be the state to keep everyone up late tonight as the results are tallied, Clinton currently has the lead over Trump.