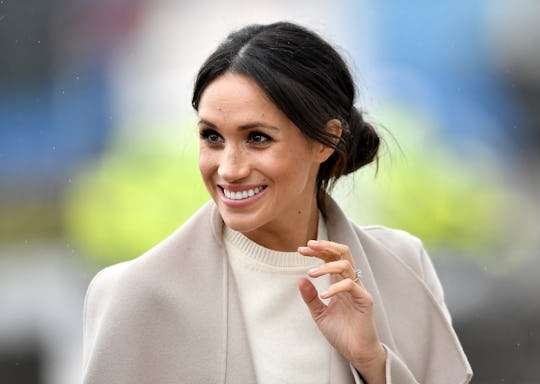 Charles McQuillan/Getty Images Entertainment/Getty Images
Here's Why Meghan Markle Asked Prince Charles To Walk Her Down The Aisle
Thomas Markle's surprise announcement earlier this week that he would no longer be attending his daughter's wedding to Prince Harry at Windsor Castle Saturday surely came as quite the shock to the soon-to-be-married couple, but on Friday Kensington Palace announced that Meghan had officially decided upon a replacement. Why is Prince Charles walking Meghan Markle down the aisle? The palace released a statement confirming that Meghan had asked her future father-in-law, the Prince of Wales, to fill in for her own dad, according to People, and that Prince Charles was "pleased to be able to welcome [her] to The Royal Family in this way."
The announcement is a heartwarming update to what has otherwise been a pretty sad story. After coming under fire for allegedly posing in a series of staged paparazzi photos, Thomas Markle told TMZ Monday that he wouldn't actually be attending his daughter's wedding, despite having previously committed to walking Meghan down the aisle. He later added that he was missing the wedding because he was scheduled to have surgery following a reported heart attack, and in a statement Thursday, Meghan confirmed his absence, and requested that he "be given the space he needs to focus on his health."
In the wake of Thomas Markle's surprise announcement, royal watchers and news outlets alike had been speculating about who may take his place escorting Meghan down the aisle. Though many thought Prince Charles should be the one to step in, social media seems to be divided on the choice. After all, not only is Meghan very close to her mother, Doria Ragland, she's also more than capable of walking down the aisle solo.
At the same time though, it is pretty touching that she decided to ask Prince Charles. For one, it was likely quite the honor for him to be asked to take on a role that is often very meaningful to many brides — especially because she did have other options. It also must have meant a lot to Prince Harry as well, since he has a very close relationship with his dad. In fact, though Prince Charles may not necessarily seem like the type to gush about his feelings, in a 2017 interview with his son for BBC Radio 4, Prince Charles spoke of how proud he was of his son, according to Hello!, even calling him, "my darling boy."
The added bonus of choosing Prince Charles though? He's actually had some practice accompanying a bride when her father wasn't able to. In 2016, Prince Charles accompanied Alexandra Knatchbull down the aisle at her wedding on behalf of her father (and Prince Charles' close friend) Norton Knatchbull, 3rd Earl Mountbatten of Burma, according to Harper's Bazaar (and he looked pretty pleased to have the chance to do so!). And as much as that must have been a special moment for him, it will surely mean so much more to accompany the woman actually marrying his own son.
Although it does feel like it would have been particularly awesome if Ragland were to be the one to walk Meghan down the aisle (I mean, can we take a moment to acknowledge what it would mean for a black woman from California to take on the traditionally-male role of accompanying her daughter as she marries into the British royal family?), it's also possible that perhaps she didn't want such a high-pressure role (I mean, the wedding is going to be watched by millions of people around the world). And asking Prince Charles to step in is pretty touching — it's not only a way for Meghan to let him know he's important to her, but it's also a way for Prince Charles to show that he supports her as she becomes part of the family.
One thing that's pretty clear though? Thomas Markle missed out on an important moment in his daughter's life, and it's heartbreaking for them both. But hopefully his absence won't take anything away from the happiness of Meghan and Prince Harry's special day.