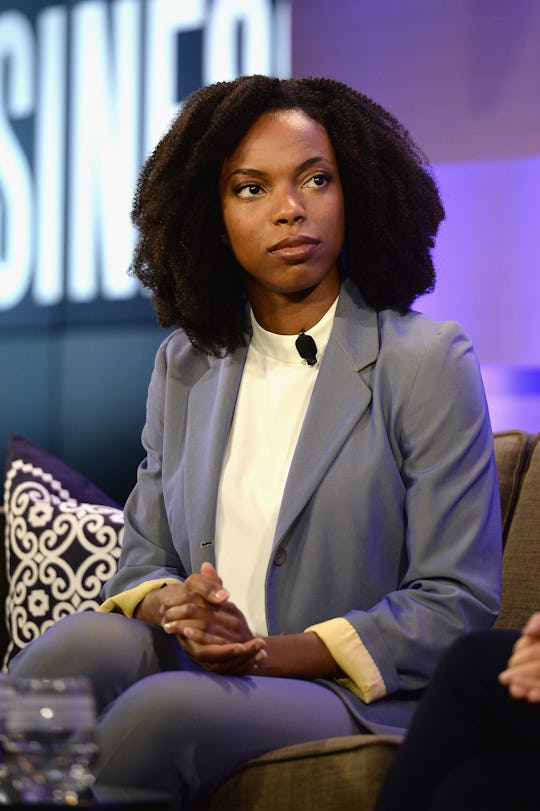 Andrew Toth/Getty Images Entertainment/Getty Images
Sasheer Zamata Leaves 'SNL', Surprising Fans
Saturday Night Live ended one of its strongest seasons yet on Saturday, with Dwayne Johnson hosting and Katy Perry as a musical guest. The infamous sketch show has seen a resurgence in popularity in recent months, partially due to the political climate (eternal gratitude to President Donald Trump and White House Press Secretary Sean Spicer) but also thanks to the talented cast. Sadly, three cast members will not be returning for next season. One cast member in particular, Sasheer Zamata, is leaving SNL but has not shared the details behind her departure.
Zamata gave no real indication to fans on Saturday night that she would be leaving the show after the final eposide drew to a close. While fellow former castmates Bobby Moynahan and Vanessa Bayer, neither of whom will be returning, both announced their departure before the final episode of the 42nd season aired, Zamata stayed quiet. The only hint fans had that something might be up came from Zamata's Instagram on Sunday; She shared a picture of herself on set being hoisted by Dwayne Johnson and "Weekend Update" host Colin Jost during the closing credits with the caption:
Wow, what a fantastic end to a fantastic season, thanks SNL
Romper has reached out to Sasheer Zamata's rep for comment regarding her departure and is awaiting a reply.
Zamata is a relative newcomer to the SNL set, having joined as a featured player in 2014 before being moved to a full cast member that same year. She was hired after the show was criticized for its lack of ethnic diversity, which Zamata told The Associated Press caused a lot of pressure for her:
That stressed me out. I kind of just stayed at home a lot. People knew too much. People would text me and be like, "What's the process like?" "What's Lorne Michaels like?" I was like, "This shouldn't even be your business."
Some critics accused SNL of not giving Zamata the level of screen time she deserved, particularly when she was clearly a talent to be reckoned with. Case in point: Zamata wrote this hilarious Stranger Things sketch after she reportedly binge watched the show and wondered where the parents were when the kids were wandering around the forest, looking for monsters:
While Zamata did spot on impressions of Rihanna and Queen Bey, who could forget 15-year-old Janelle trying to teach us all to dance without getting shut down by her parents in the "How To Dance With Janelle" vlog?
Zamata might be keeping quiet about her departure, but fellow SNL cast mate Cecily Strong took to Instagram on Sunday to say a sweet goodbye.
Strong captioned a photo of the two performers singing "To Sir, With Love" in tribute to former President Barack Obama:
This was one of my favorite moments. Just to get to do something sweet and nice because it felt like we may not get to do that in a really long time. There are lots of other reasons this was important that I won't write here. What I will say is that it did not escape me how Sasheer was so right there for it the entire time, happy to be a part of it and helpful and determined to help make it better. I felt like fainting and she came in and I really couldn't have wanted to stand next to anyone else. She's been that way for a lot of things and I love sharing t-shirts with her. She's so damn intelligent and strong and funny and I'm proud to know you, Sasheer, and to have this moment with the two of us forever.
Zamata might be gone from SNL, but she certainly left an impressive mark.