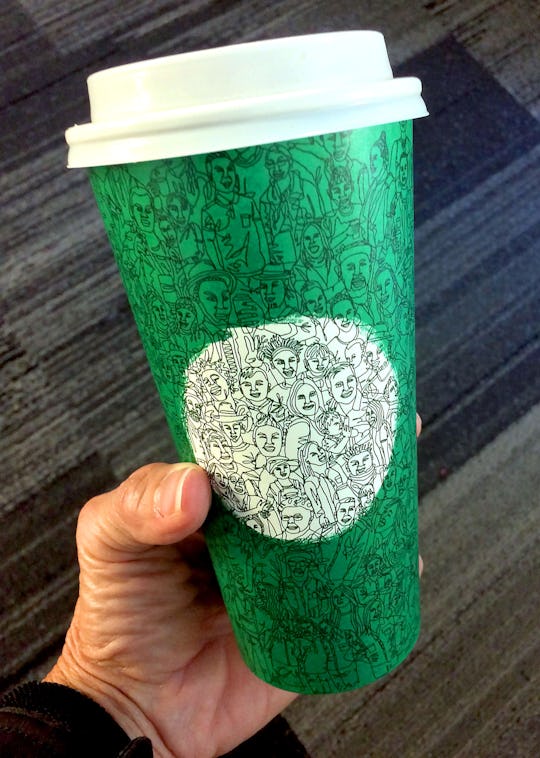 KAREN BLEIER/AFP/Getty Images
Why Is Starbucks CEO Howard Schultz Stepping Down? It's Not As Ominous As It Sounds
Relax, guys, your lattes are safe. I know it's terrifying to find out that anything is changing at our beloved coffee chain, because coffee, but the news isn't as bad as you might think. Sure, Starbucks CEO Howard Schultz is stepping down, but it's not because the ship is sinking. Far from it, actually. How on earth could anyone out there think Starbucks was failing, particularly those of us who are freelance writers and live off caramel macchiatos and WiFi?
It turns out Schultz has handed the reins over to President and Chief Operating Officer Kevin Johnson so that he can devote more time to developing high end coffee shops for Starbucks. So yeah, bless his heart. Schultz has said he has no plans to step away from the 45-year-old coffee chain (can you actually believe Starbucks has been around for 45 years?). He plans to stay on as chairman while the company diversifies their brand.
Starbucks has been having to fight off competitors in recent years as specialty roasters seem to be cropping up everywhere. Not to mention the fact that Dunkin' Donuts and McDonalds have both begun to serve frothy lattes and whipped cream-laden cafe mochas to their millions of customers. It looks like everybody wants a piece of the Starbucks action. So Schultz is stepping up his game, as he should if he wants to win the coffee wars.
Not only is Schultz planning on developing higher end coffee shops were customers can watch as their coffee beans are roasted, live and in person, he is also planning on focusing his attention on the company's social impact.
"Given the state of things in the country, there is a need to help those left behind," Schultz told CNN.
Starbucks has long been vocal about making social responsibility a priority, taking on issues like gay rights, gun violence, student debt, and race relations. Its website notes:
... Ever since we opened our first store in 1971, we dedicated ourselves to earning the trust and respect of our customers, partners and neighbors and promoting environmental sustainability. Starbucks' social corporate responsibility and sustainability is about being responsible and doing things that are good for the planet and each other.
While Schultz will be off making the world a better place and also making fancier coffees once he hands over the reins to Johnson in April, he is sure we will be in good hands. He told CNN that Johnson, a tech expert and longtime friend of Schultz, is owed "a tremendous amount of credit" for the company's success. For his part, Johnson called Schultz "among the world's most iconic leaders and entrepreneurs."
That's super sweet, guys. Keep the coffee coming.