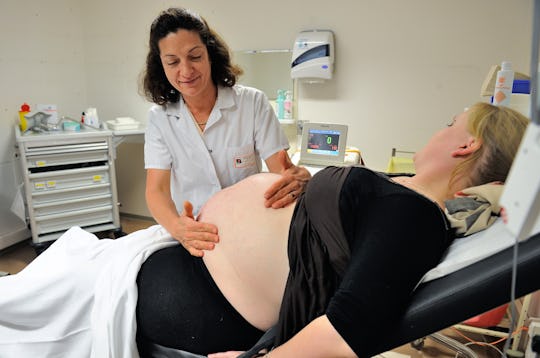 PHILIPPE HUGUEN/AFP/Getty Images
Why Is The Maternal Death Rate Skyrocketing In Texas? New Stats Are Terrifying
We live in a world where technology is a given. We take it for granted that we will have unfettered access to things like cell phones, computers, and (of course) modern medicine. Why, then, are maternal deaths skyrocketing in Texas in the 21st century? With all of the information and technology at our fingertips, how is it possible that the maternal mortality rate in the Longhorn state doubled?
Well, according to a recent study, published by the Obstetrics and Gynecology periodical, mothers dying during childbirth were nearly doubled between 201o and 2012 in Texas. The study found that, in 2010, 72 women died during childbirth compared to 148 women in 2012. While the numbers are frightening enough, the study did not find any real reason for these deaths. Generally speaking, when there is a severe spike in maternal mortality, a reason for the spike is evident, but not in this case. As the study points out: "Still, in the absence of war, natural disaster, or severe economic upheaval, the doubling of a mortality rate within a two year period in a state with almost 400,000 annual births seems unlikely."
While the authors of the study made no correlation, some health experts are pointing to the state's decision in 2011 to cut back its family-planning budget, forcing 82 Planned Parenthood clinics to close their doors, according to Slate.
A spokeswoman for Planned Parenthood of Greater Texas, Sarah Wheat, told The Dallas Morning News that the clinics whose doors were closed were family planning clinics that served as "an entry point into the health-care system," particularly for low-income women:
Chances are they're going to have a harder time finding somewhere to go to get that first appointment. They may be delayed in getting that initial pregnancy test and then a prenatal referral.
These statistics are unique, to say the least. The World Health Organization reports that approximately 99 percent of all pregnancy-related deaths happen in developing countries. In countries like the United States, where health care facilities are usually readily available, the rate of pregnancy-related death falls around 12 deaths per 100,000 pregnancies, far below the recent rate in Texas, according to Slate. In 2015, the pregnancy-related death rate was 35.8 deaths per 100,000 in Texas. In neighboring California, the rate actually dropped to 15.8 deaths per 100,000 births in 2014.
Texas has developed a special task force to attempt to curtail the issue. The Department of State Health Services responded to the study by acknowledging the "complex problem" of the skyrocketing maternal mortality rate in Texas, and spokesperson Carrie Williams added:
We're aware of the numbers and want to see a decrease in this trend, and that's why the task force is closely reviewing these cases and will make recommendations.