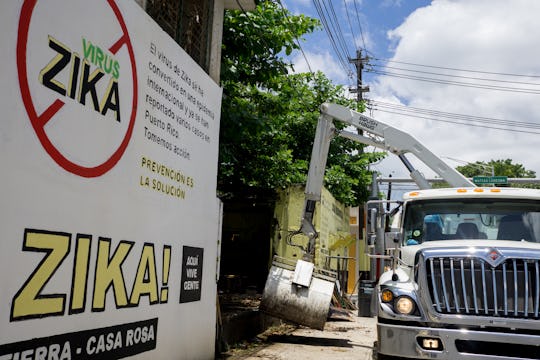 Angel Valentin/Getty Images News/Getty Images
Why Is Zika So Bad In Puerto Rico? The Situation Could Get Even Worse
The U.S. Department of Health and Human Services has issued a declaration of a public health emergency in Puerto Rico. There has been a rise in confirmed cases of patients who have contracted the Zika virus in recent weeks, with dire warnings of more to come from the U.S. Surgeon General. But why has Zika gotten so bad in Puerto Rico lately?
The island of Puerto Rico has seen over 10,000 cases of Zika, a virus that is spread through the bite of an infected Aedes aegypti mosquito and through sexual transmission. While most healthy adults will only experience flu-like symptoms, the virus is a serious concern for pregnant women and their babies. Zika has been linked to microcephaly, a congenital neurological disorder where a baby's head does not grow to full size and can cause a whole host of developmental delays. The virus can also be transmitted sexually through the semen of an infected male, which has U.S. Surgeon General Dr. Vivek Murthy calling for stronger mosquito control, as well as more accessible and affordable contraception. In a report by The Associated Press, Murthy said:
We cannot afford to wait much longer. I am deeply concerned about how quickly the virus is spreading.
And it is certainly spreading fast: in the last week alone, the Puerto Rican government has reported 1,914 new cases of Zika. The U.S. Surgeon General announced on Thursday that, at this rate, one-quarter of Puerto Ricans will have contracted the Zika virus by the end of 2016. On Friday, the U.S. government declared a state of emergency, which will allow access to emergency funds and temporary personnel to help battle the spreading virus. Sylvia M. Burrell, the U.S. Department of Health and Human Services Secretary, released a statement saying:
This Administration is committed to meeting the Zika outbreak in Puerto Rico with the necessary urgency. As the first virus that can be transmitted by mosquitoes known to cause severe birth defects, we are working closely with Puerto Rican officials to pursue solutions to fight the virus in Puerto Rico with a focus on protecting pregnant women and continuing our efforts with jurisdictions throughout the United States to address this public health threat.
One of the serious issues Puerto Rico is battling is its rampant mosquito population. The CDC recently advised the Puerto Rican government to commit to doing an aerial spray of naled, a fast-acting, stomach poison that kills mosquitoes, but the government chose to go with an organic pesticide (Bti) instead, citing environmental and health concerns. There is also a concern about sexually transmitting the disease, as there is not adequate access to affordable contraception.
Now that the government has declared a state of emergency for Puerto Rico, the government will be able to access more fund to aid in the fight against Zika. But, as Murthy pointed out, the government cannot contain the virus without the public's help.
"Society needs to be responsible," Murthy said. "We need to make sure those babies have a shot at a healthy life."