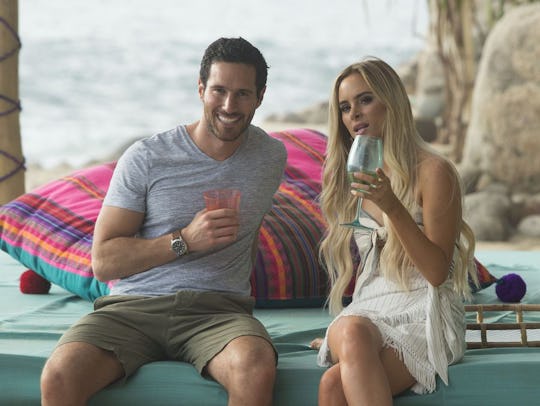 Paul Hebert/ABC
'Bachelor In Paradise' Isn't Airing At Its Regular Time For Some Fans
After watching Evan and Carly's tear-jerking wedding on the second episode of Bachelor in Paradise Season 4, fans are ready to get back to watching romances blossom and unravel. But there's about to be a break in programming for certain parts of the country, likely leading many fans to ask: why isn't Bachelor in Paradise on tonight? New York is set to air a preseason game of the New York Giants against the Cleveland Browns, and in this case, football is taking precedence over true love. OK, it's not really that dramatic, but New York is going to air the game in the same time slot as Bachelor in Paradise, so Monday's episode will be pushed to 1:07 a.m. EST in the wee hours of Tuesday morning instead.
Not only does football often interrupt your regularly scheduled programming during the actual season, or go over by enough to totally screw up your DVR lineup, but preseason also sometimes has a similiar (and highly inconvenient) impact. Such is the case for Monday's new Bachelor in Paradise episode — and since it's a show that airs new episodes on two nights back-to-back, it's not as easy of a fix as just airing Monday's episode on Tuesday night. So if you usually DVR Bachelor in Paradise, you should probably make sure the recording starts at the new time for Monday's episode, since it doesn't look like it will air at any other time before Tuesday's new installment debuts.
Somehow, Season 4 of Bachelor in Paradise has already been juicy enough to have fans wanting to know how each of the already formed couples end up. And since there are still more contestants that have yet to arrive, no one can really afford to miss an entire episode. A lot can happen in that two-hour span and considering the fact that we still need the first rose ceremony of the season to finally happen, a lot probably will want to know when Bachelor in Paradise airs its Monday episode early Tuesday morning.
Judging by the previews for the overall season, there's still a lot of hookups, heartache, and falling in love to happen. For Monday's episode, New York will have to wait a little longer to see it continue to play out (thanks a lot, sports), but since it will air before Tuesday night, hopefully fans will get to see the expected rose ceremony before the next batch of surprise contestants arrive in Paradise.