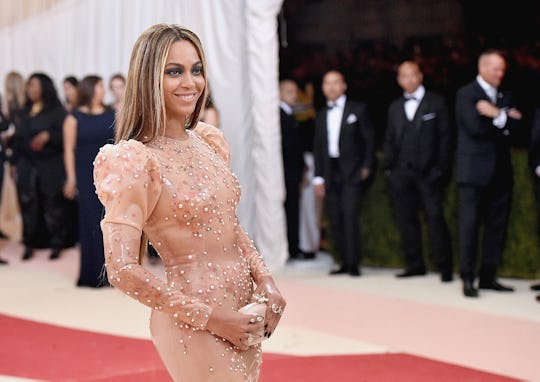 Mike Coppola/Getty Images Entertainment/Getty Images
Why Isn't Beyonce At The Met Gala?
While a bounty of A-list stars and fashion icons spent the majority of the day on Monday getting ready to hit the red carpet for the 2017 Met Gala, one superstar seemed to be missing from all the action. Speculation arose shortly before the extravagant event began that Beyoncé might not be making an appearance — which was strange because the superstar hasn't missed the exclusive party since 2011 — leading many to rightfully wonder why Beyoncé wasn't at the Met Gala this year. On Monday night, it seemed those predicting her absence were right. So where was the soon-to-be mom of three?
In case you missed it, Beyoncé is currently pregnant with twins. Although she has not revealed her due date, her bundles of joy may arrive in a matter of weeks, given that she is possibly in her third trimester, as Refinery29 reported. So if she doesn't feel like throwing on a heavy gown and sitting through hours of hair and make-up, that makes total sense.
The 35-year-old singer also dropped out of Coachella due to her pregnancy, which happened in mid-April. At the time, she cancelled her performance as she was "following the advice of her doctors to keep a less rigorous schedule in the coming months," according to a statement obtained by Billboard. People also reported earlier this month that the expectant mom has been reportedly "taking it easy" recently. So it seems that, as her pregnancy rolls along, fans should anticipate fewer Beyoncé sightings — at least temporarily.
Of course, she is Queen Bey and fashion is her forte, so if she is in fact totally absent (and not sneaking in some secret Beyoncé-only door in the back of the building like true royalty) from this year's Met Gala — the annual fundraiser thrown by the Metropolitan Museum of Art's Costume Institute — fans will still be scratching their heads for an official answer, especially since she made an appearance just this past weekend at the Wearable Art Gala (dressed to the nines, no less).
Whatever the case, it's pretty much a guarantee that Beyoncé won't be leaving fans hanging for long; The power-house performer has been gifting fans and the eager public with occasional glimpses of her glamorous date-nights with husband Jay Z on her Instagram account, and has been caught a few times visiting smaller events and galas. Fear not, Beyhive: the Queen may not have made your night tonight, but she sees you and she most definitely didn't abandon you. (Bless.)