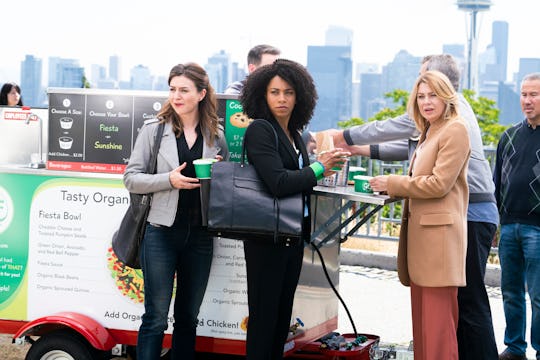 Derek Johnson/ABC
There's A Good Reason Why 'Grey's Anatomy' Won't Be On Tonight
If it seems like it's way too early for Grey's Anatomy to be on its first break, that's because it really is. But luckily for fans, it won't last long and next week the doctors of Grey Sloan Memorial Hospital will be back with more drama in and outside of the hospital. In case you tuned in at the usual time slot, however, you might be wondering: why isn't Grey's Anatomy on tonight? The short answer is that there are two important reasons — Halloween specials. It's that time of year again, for classic and newer fall and Halloween movies and half-hour specials to dominate your usual programming. And you can't really be mad at that, right?
Last season, Grey's took a similar break around the same time and new episodes returned the following week. It's unfortunate that the season has to cut into primetime TV, but it happens and it's all in the name of Halloween. Instead of Grey's being on tonight, in its place are It's the Great Pumpkin, Charlie Brown and Toy Story OF TERROR!. The first is a staple of the season and the Toy Story Halloween special is just a friendly reminder that the franchise will never go out of style. It might be easier to enjoy the holiday specials if they didn't cut into Grey's, but at least it will be back next week.
The real hiatus fans should be worrying about is the one that will inevitably come toward the middle of November. Every season, Grey's takes its holiday break in mid-November and doesn't return until two months later. I know, it's blasphemy. So while this break in the show is inconvenient, it could be a lot worse.
And you probably don't want to miss either of the Halloween specials, even if you don't have kids. Nothing says nostalgia like watching Charlie Brown and the gang tease Linus for trying to catch a glimpse of the fictional "Great Pumpkin." And after its premiere a few years ago, Toy Story of TERROR! is quickly becoming a tradition for families as well. It picks up where Toy Story 3 left off, so there's no Andy, but there is another misadventure with some of the core toys. Both specials kick off the Halloween season on ABC and since Grey's isn't on anyway, you might as well tune in.
When Grey's returns next week with a new episode, there's a lot to look forward to, especially since the season only just started. Meredith finally put herself back in the dating pool and after that disastrous first date that started off so well, it's going to be interesting to see how her dating life progresses. And Alex is having a difficult time adjusting to life as the interim chief of surgery. Since he already left his official surgeon job at the hospital, this is really the only place for him at Grey Sloan, so it's possible that it becomes permanent later in the season.
There's also the matter of Jackson and Maggie (Jaggie, if you will). They spent the better part of Season 14 unsure if they could be together and eventually, they seemed like they could be endgame. But with Jackson off with a crisis of faith and Maggie contemplating dating Dean from Station 19, things are kind of up in the air. Clearly, there's still a lot to work through when Grey's comes back next week. So maybe fans can take this week off to mull over it all and obsess a little over the unknown. Because at this point, there's a lot of that going around on Grey's.