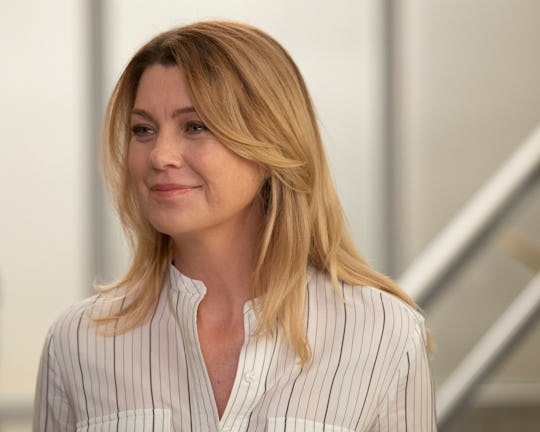 Rick Rowell/ABC
Meredith & Link Had A Moment In The 'Grey's Anatomy' Season Premiere
The Season 15 premiere of Grey's Anatomy ended with Meredith realizing that she's finally ready to move on from Derek. No one can replace the original McDreamy, but with the premiere came the introduction of two new doctors who could give Mark Sloan himself a run for his money in the looks department. One of the newbies, a self-proclaimed "Ortho God" named Link, appears interested in Meredith, but will Meredith and Link get together on Grey's Anatomy? She's ready to start fresh with love again, but if she hooks up with someone she works with, it could mean a lot of awkward operating rooms and patient consultations. In other words, everything fans love about Grey's.
Executive producer Krista Vernoff told The Hollywood Reporter that it's time for Meredith to find love again, only it's not clear who she's going to find it with. "Meredith didn't really date originally. She fell in love with McDreamy. And for a little while there when he turned out to be married to someone, there was some sleeping around by way of comfort, and there was McVet," she said. "And then she was with Derek and then she was married and having kids and then suddenly and painfully, she became a widow."
Vernoff said that Season 15 will see a whole new side of Meredith now that she agreed to work with her matchmaker patient CeCe. "That means putting herself out there in a whole new way. Actually, seeking love," Vernoff added. "That's brand new."
I get the feeling this means that Meredith is ready to move on to a serious relationship rather than a casual fling with another doctor. But if this is going to be a whole new side of Meredith, who's never really dated around on Grey's, maybe she could use a no-strings-attached hook up with Link.
Vernoff also spoke to Deadline about a possible Meredith/Link romance this season but she's remaining pretty tight-lipped about the details. Although "there are a lot of possibilities," the Link character was brought on to shake things up around the hospital in the way that Mark Sloan once did. "We missed the energy of Mark Sloan. And so Mark Sloan is irreplaceable. There's only one Mark Sloan, and Link is actually intentionally written as a very different character," Vernoff said. "It just changes up the energy on the show. More will be revealed about Link. There's more to him. He comes with some surprises."
For those who have missed Mark since (what I like to call) the golden age of Grey's, Link's lighthearted confidence is a little reminiscent of that character. But that's not the type of person Meredith is usually attracted to. Personally, I don't see a romance between these too. I think that like her (steamy) dream about DeLuca, her mildly flirtatious run-ins with Link were just the push she needs to put herself out there for real.
Fans have seen Meredith in different serious relationships and have seen her rebound from Derek, but she's never really dated casually. After Riggs left, she didn't seem interested in trying again, so a new love interest for Meredith is a big deal. I anticipate lots of terrible dates before she finds her next great love, but I have a feeling that's where this is headed for her this season.