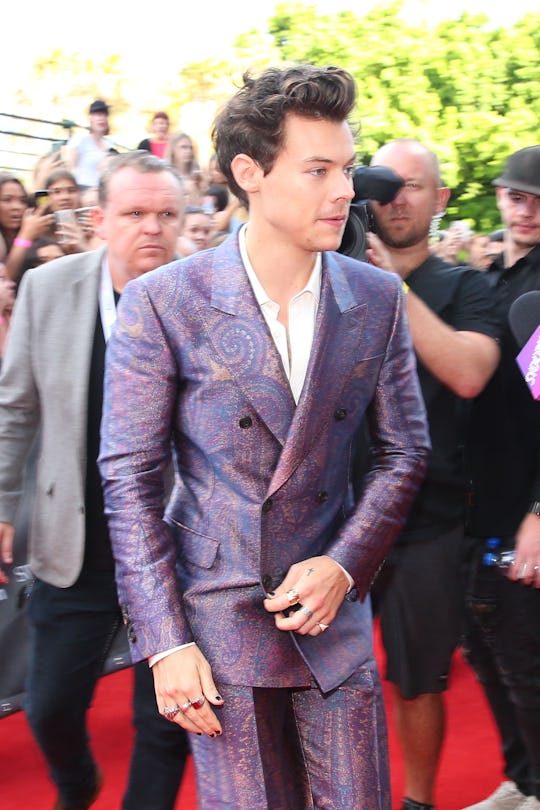 Scott Barbour/Getty Images Entertainment/Getty Images
Here's Why You Can't Find Harry Styles At The 2018 Oscars
As it's probably the most prestigious awards ceremony in Hollywood, it generally seems like everybody with a reason to go attends the Academy Awards. So why isn't Harry Styles at the Oscars? Fans will be disappointed once they realize that the singer-turned-actor is apparently nowhere to be found in the audience, and at the biggest night in movies. In case you'd forgotten (I'll be honest, for a moment I did), Styles was in the movie Dunkirk, nominated for a few different awards this year and, most notably, for Best Picture. That's kind of a big deal, so it would make sense for one of its leading actors to be there.
Unfortunately for anybody looking for another opportunity to see Styles in formalwear (he does it really well and always with a bit of pizazz), he didn't make an Oscar-worthy appearance (read: an appearance at the Oscars, at all). Many imagined that he would show up, but alas, not all dreams come true. His team didn't release any sort of statement explaining his absence at the time of publication, so I'll have to rely on my own sleuthing skills and powers of deductive reasoning to figure out this mystery. Keep in mind, however, that I don't have magical powers and I can't know everything so these are just a few guesses.
My first stop when investigating celebrity whereabouts is always the most obvious — their social media. And while Styles has scores of fans constantly talking about him on Twitter and Instagram, Styles doesn't tend to share a whole lot of personal details on either of the aforementioned platforms. Considering the fact that he's super-famous, I guess I can understand why he would choose not to share his whereabouts on a platform where everyone could see. But it definitely doesn't make my job any easier. So I'll have to move on to more guesswork.
My second thought was that perhaps he's on tour. It turns out that he's not. But it could be that his extensive touring schedule has something to do with his absence. (I'm just spitballing here). According to the aforementioned social media, Styles just wrapped up a world tour a couple of months ago in early December. That wouldn't say a whole lot except that apparently he's set to start another world tour in just a couple of days. That's right, after about a three-month break, Styles is due in Switzerland on March 11 to kick off another tour. I gotta say, that's a lot of traveling — so maybe he's just resting up instead of going to the event that involves red carpets, media interviews, and probably an on-stage appearance or two.
I do have one more theory, and that's that Styles just doesn't like red carpet events or awards shows. Or maybe he just doesn't like coming to the United States. He also was not present for the Golden Globe awards in January, and that was smack dab in the middle of his few-month break from touring. Look, I don't know Styles' schedule, which I'm sure is busy, but I am kinda surprised he wasn't there. For that matter, he wasn't at the BRIT Awards either, even though his video for "Sign of the Times" won for Best Music Video.
I'm beginning to suspect that Styles is just tired of posing for pictures and answering questions at red carpet events. Or maybe these events just aren't as much fun in real life as they appear to be to all of us watching from the comfort of our own couches. So that leaves me wondering, will Styles ever show up at a public event ever again? Will he ever be back at the Grammys? Will he ever act in another movie? The world needs to know.
Check out Romper's new video series, Romper's Doula Diaries:
Watch full episodes of Romper's Doula Diaries on Facebook Watch.