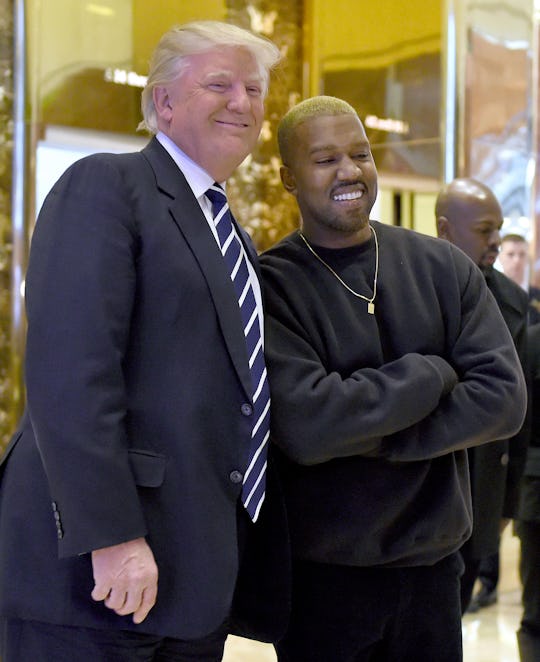 TIMOTHY A. CLARY/AFP/Getty Images
Kanye West Isn't "Traditionally American", Guys
As President-elect Donald Trump and his incoming administration prepare for Friday's inauguration, they've been battling some serious road blocks. One issue Trump's transition team has struggled with is the lack of entertainers willing to perform at the event. While I believe Scott Baio (Chachi) can be expected to make an appearance, recent Trump pal Kanye West won't be performing. Why? Because one of the most popular entertainers in the world (and one of the few who seems genuinely interested in forging some sort of union with Trump) wasn't even asked to perform.
According to inauguration committee chairman Tom Barrack Jr., rapper West wasn't asked to perform because the event is "not the venue" for him. Barrack Jr. told CNN:
It's going to be typically and traditionally American, and Kanye is a great guy. We just haven't asked him to perform. We move on with our agenda.
Romper has reached out to the Trump transition team for comment and is awaiting a response.
It turns out that, while West "considers himself a friend to the president-elect", he's not quite "traditionally American" enough for the inauguration (no word on what that means). He's a friend, but more of a weekday brunch on the other side of town sort of friend. He doesn't warrant an invite to the big ticket events. Other, more American-ish performers who did manage to make the cut include country singer Toby Keith, America's Got Talent finalist Jackie Evancho, and Three Doors Down. So, like, a bunch of white people.
West made news back in November when he decided to endorse Trump for president during a concert. He told the crowd that he didn't vote, but if he had he would have voted for Trump. West also said he planned to run against Trump in 2020... so maybe that's why he wasn't invited? It couldn't possibly be because the Trump team is turning their noses up at rap, a decidedly American music genre, could it?
Considering President-elect Trump's reputation for racist, misogynistic, and xenophobic behavior, one would think it might be a solid idea to invite a rap superstar who actually might have accepted the invitation as a great piece of public relations. Instead, Twitter is now all over the statement "typically and traditionally American":
The good news is, I think Kanye Wests' career will survive without an inauguration performance. But here's a message for the man himself; when Trump next asks to hang out with you because all of his other, typically, traditionally American friends are busy... stay strong, my friend. You deserve better. Don't let him turn you into a weekday friend.
Besides, he still has Scott Baio in his corner. And you don't get much more American than Chachi.