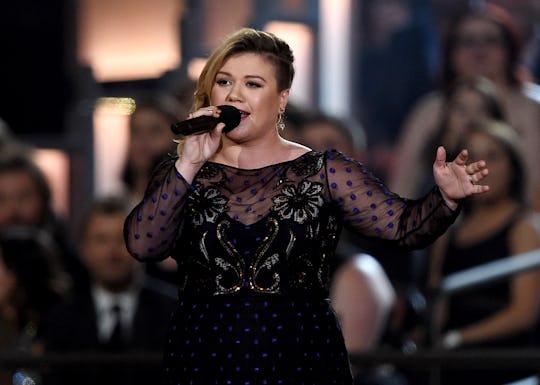 Why Isn't Kelly Clarkson At The Grammys? She Has A Good Excuse For Skipping The Ceremony
Since American Idol Season 1 winner Kelly Clarkson burst on the music scene with a fantastic TV moment (like this) in 2002, the Grammys has had its eye on the reality star-turned-industry superstar. And, in turn, Clarkson has received a whopping 11 Grammy nominations in the last 14 years, two coming from 2016 alone: Clarkson is nominated for Best Pop Solo Performance for "Heartbeat Song" and Best Pop Vocal Album for Piece By Piece. But, come the Feb. 15 awards ceremony, she won't be able to accept any win. Because Kelly Clarkson will not be at the 2016 Grammys.
So, what gives? Well, quite simply, Kelly Clarkson's second child, who is expected to arrive within weeks. Though we don't yet know the exact due date of daughter River Rose's little brother, it's a safe bet we'll meet him soon, at least based on what she told On Air With Ryan Seacrest earlier this month. According to the singer, Clarkson's doctor is advising her to lay a bit lower during these upcoming weeks, making travel to the Grammys on Feb. 15 a bit difficult.
But there's good news for Clarkson fans eager to see her back on the small screen. Particularly, back to her roots on the small screen. On Feb. 25, a very pregnant Clarkson will return to American Idol to judge and perform on the final season of the reality show. And that upcoming appearance is to blame for Clarkson's Grammys absence. Said Clarkson on On Air With Ryan Seacrest:
I was going to do the Grammys and Idol, and then my doctor was kind of like, I just have such hard pregnancies, flying back and forth to L.A., like if they were closer together, I would've done both, but I had to kind of choose one.
But how could the nominee miss the biggest night in music? As she continued:
I obviously chose Idol because it's ending and I was the original winner, so it'd kinda be weird if I wasn't there. I'm unfortunately going to have to miss the Grammys.
The decision makes sense — this is Idol's final season, Clarkson's last chance to send off the series (with which she had a complicated relationship with until recent years). And here's guessing the true music idol will have plenty of Grammys to look forward to in her future.
Still, since you been gone, Kelly, the Grammys simply aren't the same. Come back next year!